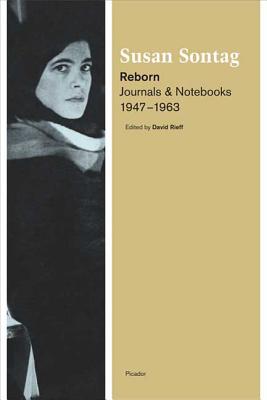 Reborn
Journals and Notebooks, 1947-1963
Paperback

* Individual store prices may vary.
Other Editions of This Title:
Hardcover (12/9/2008)
Paperback (9/1/2009)
Description
"In the journal I do not just express myself more openly than I could to any person; I create myself."

The first of three volumes of Susan Sontag's journals and notebooks, Reborn (1947-1963) reveals one of the most important thinkers and writers of the twentieth century, fully engaged in the act of self-invention. Beginning with a voracious and prodigious fourteen-year-old, Reborn ends as Sontag, age thirty, is finally living in New York as a published writer.
Praise For Reborn: Journals and Notebooks, 1947-1963…
"A fascinating document of Sontag's apprenticeship, charting her earnest quest for education, identity, and voice . . . What slowly emerges . . . is a sense of Sontag's ferocious will. . . . She wanted to be a writer and would do almost anything to make that happen." —Darryl Pinckney, The New Yorker

"A portrait of the artist as a young omnivore, an earnest, tirelessly self-inspecting thinker fashioning herself into the phenomenon she will be . . . Her journal is her true first book, the story of a woman struggling with her consciousness." —Richard Lacayo, Time magazine

"A revelation . . . As do all the best critics, Sontag gave us new metaphors for how to read and see. Fabulously, surprisingly, Reborn shows she used that skill to understand her own pell-mell life." —John Freeman, NPR.org

"What's fascinating . . . is that the journal reveals and adolescent and, later, a young woman, in whom 'ambition'--in this case, an overpowering yearning to be surrounded by and immersed in literature and culture--vastly outeweighed, and seems to have overpowered, 'sexuality.' As she herself puts it in the last entry of this journal, 'intellectual wanting' was the equal of 'sexual wanting' " —Daniel Mendelsohn, The New Republic
Picador, 9780312428501, 336pp.
Publication Date: October 27, 2009
About the Author
Susan Sontag
was the author of four novels, including
The Benefactor
,
Death Kit
,
The Volcano Lover
, and
In America
, which won the 2000 National Book Award for fiction; a collection of stories,
I, etcetera
; several plays, including
Alice in Bed
; and nine works of essays, among then
On Photography
, which won the National Books Critics Circle Award for criticism. In 2001, Sontag was awarded the Jerusalem Prize for the body of her work. She died in New York City in 2004.
David Rieff is a New York-based journalist and author. During the nineteen-nineties, he covered conflicts in Africa (Rwanda, Burundi, Congo, Liberia), the Balkans (Bosnia and Kosovo), and Central Asia. Now a contributing writer for the New York Times Magazine, he has written extensively about Iraq, and, more recently, about Latin America. He is the author of eight books, including Slaughterhouse: Bosnia and the Failure of the West and A Bed for the Night: Humanitarianism in Crisis. His memoir of his mother's final illness, Swimming in a Sea of Death, appeared in January 2008. Based in New York City, Rieff is currently working on a book about the global food crisis.