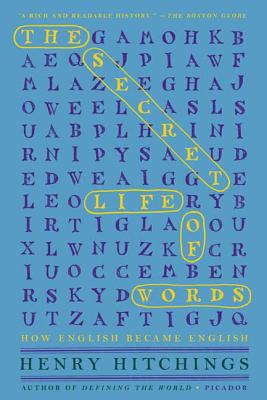 The Secret Life of Words (Paperback)
How English Became English
Picador, 9780312428563, 448pp.
Publication Date: September 29, 2009
* Individual store prices may vary.
Description
AN ECONOMIST BOOK OF THE YEAR
The Secret Life of Words is a wide-ranging account of the transplanted, stolen, bastardized words we've come to know as the English languag. It's a history of English as a whole, and of the thousands of individual words, from more than 350 foreign tongues, that trickled in gradually over hundreds of years of trade, colonization, and diplomacy. Henry Hitchings narrates the story from the Norman Conquest to the present day, chronicling the English language as a living archive of human experience.
A SAMPLE OF THE THOUSANDS OF STORIES BEHIND THE WORDS:
• Alcatraz Island was named by a Spanish explorer who arrived in 1775 to find the island covered with pelicans, or alcatraces. And "alcatraces"? The word goes back to the Arabic al-qadus, which was a bucket used in irrigation that resembled the bucket beaks of pelicans.
• What does a walnut have to do with walls? The word comes from the Old English walhnutu, meaning foreign nut. They were originally grown in Italy and imported, and the northern Europeans named them to distinguish them from the native hazelnut.
• A crayfish is not a fish. The name comes from the old French word crevice, through the Old German crebiz and the modern French ecrevisse. The "fish" part is just the result of a mishearing."
The Secret Life of Words is a wide-ranging chronicle of how words witness history, reflect social change, and remind us of our past.
About the Author
Henry Hitchings was born in 1974. He is the author of The Secret Life of Words, Who's Afraid of Jane Austen?, and Defining the World. He has contributed to many newspapers and magazines and is the theater critic for the London Evening Standard.
Praise For The Secret Life of Words: How English Became English…
"Hitchings here provides a colorful, thematic history of the English language . . . Hitchings is a fine writer with an eye for the illustrative detail . . . With ninety-plus pages of notes, sources, and useful indexes, this is fine choice for libraries and a 'smorgasbord' for language aficionados. Highly recommended." —E. L. Battistella, Choice
"A rich and readable history." —The Boston Globe
"Astonishing . . . Every page of The Secret Life of Words is stuffed with rewards. . .Painstakingly detailed, closely argued and suffused with a contagious enthusiasm." —Daily Telegraph (UK)
"A galloping history of English-speaking people and lists of words they have borrowed or invented." —The New York Sun
"Filled with fascinating nuggets." —The Independent (UK)
"A delightful book." —The Roanoke Times