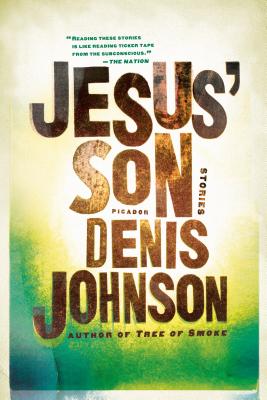 Jesus' Son (Paperback)
Picador USA, 9780312428747, 133pp.
Publication Date: February 17, 2009
* Individual store prices may vary.
Description
An intense collection of interconnected stories that portray life through the eyes of a young man in a small Iowa town, by the author of "Already Dead: A California Gothic," "Angels" and "Resuscitation of a Hanged Man."
About the Author
Denis Johnson (1949-2017) is the author of eight novels, one novella, one book of short stories, three collections of poetry, two collections of plays, and one book of reportage. His novel Tree of Smoke won the 2007 National Book Award.
Praise For Jesus' Son…
"Reading these stories is like reading ticker tape from the subconscious."--The Nation

"A work of spare beauty and almost religious intensity."--Entertainment Weekly

"Intense, vicious, and beautiful, these stories are fraught with a cutting wit purposefully juxtaposed against the too-big sentimentality of a drunk. Denis Johnson is an exquisite writer."--Mary Gaitskill
"[Dennis Johnson is] a synthesizer of profoundly American voices: we can hear Twain in his biting irony, Whitman in his erotic excess, not a little of Dashiell Hammett too in the hard sentences he throws back at his gouged, wounded world. And behind all these you sense something else: a visionary angel, a Kerouac, or, better yet, a Blake, who has seen his demon and yearned for God and forged a language to contain them both."--Newsday

"Ferocious intensity. . . . No American novelist since William Burroughs has so flagrantly risked 'insensitivity' in an effort to depict the pathology of addiction."--The New York Times Book Review