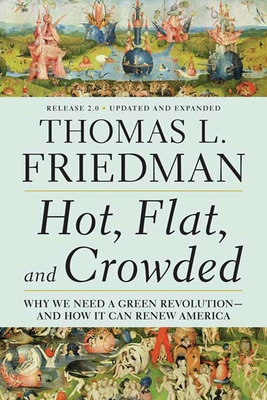 Hot, Flat, and Crowded 2.0
Why We Need a Green Revolution--and How It Can Renew America
Paperback

* Individual store prices may vary.
Description
A New York Times Book Review Notable Book of the Year
A Washington Post Best Book of the Year
A Businessweek Best Business Book of the Year
A Chicago Tribune Best Book of the Year

In this brilliant, essential book, Pulitzer Prize-winning author Thomas L. Friedman speaks to America's urgent need for national renewal and explains how a green revolution can bring about both a sustainable environment and a sustainable America.

Friedman explains how global warming, rapidly growing populations, and the expansion of the world's middle class through globalization have produced a dangerously unstable planet--one that is "hot, flat, and crowded." In this Release 2.0 edition, he also shows how the very habits that led us to ravage the natural world led to the meltdown of the financial markets and the Great Recession. The challenge of a sustainable way of life presents the United States with an opportunity not only to rebuild its economy, but to lead the world in radically innovating toward cleaner energy. And it could inspire Americans to something we haven't seen in a long time--nation-building in America--by summoning the intelligence, creativity, and concern for the common good that are our greatest national resources.

Hot, Flat, and Crowded 2.0 is classic Thomas L. Friedman: fearless, incisive, forward-looking, and rich in surprising common sense about the challenge--and the promise--of the future.
Praise For Hot, Flat, and Crowded 2.0: Why We Need a Green Revolution--and How It Can Renew America…
"Friedman produces cogent analyses of the most important developments of our time. . . . A convincing case for the green revolution required to rescue us from an unsustainable course." —USA Today

"Friedman has made himself a major interpreter of the confusing world we inhabit. . . . He gets the big issues right." —The Washington Post Book World

"A compelling manifesto that deserves a wide reading, especially by members of Congress." —The Boston Globe

"If Friedman's profile and verve take his message where it needs to be heard, into the boardrooms of America and beyond, that can only be good--for all our sakes." —The New York Times Book Review

"Tom Friedman has done it again. . . . He has lit upon what he might describe as another Big Idea, and, given his track record as a zeitgeist thermometer, we should all pay attention. . . . He has a gift for weaving anecdotes and examples from around the world into his broader tapestry." —Financial Times

"Hot, Flat, and Crowded may make it official, for many, that ecology-mindedness is the character of our times. . . . I hope everyone reads it." —The Philadelphia Inquirer

"Required reading" —Business Week

"New York Times columnist and globalization exponent Thomas Friedman pleads for Americans to wake up to the perils and opportunities of an emerging resource-strapped world. The author comes across as a blend of Will Rogers, Jack Welch and Norman Vincent Peale--a plain-spoken citizen outraged at the bullheadedness of U.S. politicians, yet optimistic about the power of ingenuity and finely crafted policy to avert disaster." —Newsweek
Picador, 9780312428921, 528pp.
Publication Date: November 24, 2009
About the Author
Thomas L. Friedman is an internationally renowned author, reporter, and columnist-the recipient of three Pulitzer Prizes and the author of six bestselling books, among them From Beirut to Jerusalem and The World Is Flat.

He was born in Minneapolis in 1953, and grew up in the middle-class Minneapolis suburb of St. Louis Park. He graduated from Brandeis University in 1975 with a degree in Mediterranean studies, attended St. Antony's College, Oxford, on a Marshall Scholarship, and received an M.Phil. degree in modern Middle East studies from Oxford. After three years with United Press International, he joined The New York Times, where he has worked ever since as a reporter, correspondent, bureau chief, and columnist. At the Times, he has won three Pulitzer Prizes: in 1983 for international reporting (from Lebanon), in 1988 for international reporting (from Israel), and in 2002 for his columns after the September 11th attacks.

Friedman's first book, From Beirut to Jerusalem, won the National Book Award in 1989. His second book, The Lexus and the Olive Tree: Understanding Globalization (1999), won the Overseas Press Club Award for best book on foreign policy in 2000. In 2002 FSG published a collection of his Pulitzer Prize-winning columns, along with a diary he kept after 9/11, as Longitudes and Attitudes: Exploring the World After September 11. His fourth book, The World Is Flat: A Brief History of the Twenty-first Century (2005) became a #1 New York Times bestseller and received the inaugural Financial Times/Goldman Sachs Business Book of the Year Award in November 2005. A revised and expanded edition was published in hardcover in 2006 and in 2007. The World Is Flat has sold more than 4 million copies in thirty-seven languages.

In 2008 he brought out Hot, Flat, and Crowded, which was published in a revised edition a year later. His sixth book, That Used to Be Us: How American Fell Behind in the World We Invented and How We Can Come Back, co-written with Michael Mandelbaum, was published in 2011.

Thomas L. Friedman lives in Bethesda, Maryland, with his family.
or
Not Currently Available for Direct Purchase