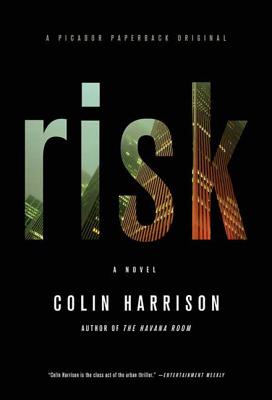 Risk (Paperback)
A Novel
Picador, 9780312428938, 192pp.
Publication Date: September 29, 2009
Other Editions of This Title:
Hardcover, Large Print (3/1/2010)
* Individual store prices may vary.
Description
An honest lawyer, a Czech hand model, and a box of mysterious Christmas ornaments--each plays a part in Colin Harrison's compelling new intrigue


George Young never thought of himself as a detective, but that's pretty much his vocation--an attorney at a top insurance firm, it's his job to pin down suspicious claims. But Mrs. Corbett, the rich, eccentric wife of the firm's founder, has it in mind to put George's skills to a peculiar assignment. With only a few months left to live, her one desire is to know the true circumstance of her son Roger's violent death. George's investigation leads him to Roger's mistress, a cagey Czech hand model named Eliska, who can cast a seductive spell simply by removing her gloves.
Did Eliska's motives for latching on to Roger get him killed? Or did some of her shadowy and dangerous little friends take care of the job? And why were there boxes and boxes of Christmas ornaments in the dead man's apartment? George will have to take a few chances of his own if he wants to get to the bottom of Roger's death for Mrs. Corbett.
Set against a volatile and vividly drawn Manhattan, Risk is prime Colin Harrison.
About the Author
Colin Harrison is the author of the novels You Belong to Me, Break and Enter, Bodies Electric, Manhattan Nocturne, Afterburn, The Havana Room, The Finder, and Risk. He serves as the editor in chief at Scribner, an imprint of Simon & Schuster. A graduate of Haverford College and the University of Iowa Writers' Workshop, he is married to the writer Kathryn Harrison and lives in Brooklyn, New York, and Jamesport, Long Island.
Praise For Risk: A Novel…
"Colin Harrison's urbane thriller, which tops out at 176 diverting pages, [is] long enough to satisfy, short enough not to overstay its welcome…. Harrison is a most captivating (as well as economical) writer. Set amid the turmoil of Manhattan, whose unique ambiance he captures skillfully, Harrison weaves an unpredictable tale of urban crime in which homicide and humor blend and whose worth is measured by quality not quantity." —Robert Wade, The San Diego Union Tribune
"Colin Harrison writes sophisticated novels set in New York. They earn excellent reviews but aren't as well known as they should be…. Harrison views New York with a cool but compassionate eye. What distinguishes RISK is not its plot--investigation, danger, resolution--but the people, the digressions, the details along the way…. As crime fiction goes, [RISK is] a small gem." —Patrick Anderson, The Washington Post
"[A] slim, satisfying crime novel…. [Harrison] seems to be making fun both of his own New York fetish and of detective parodies like Garrison Keillor's "Guy Noir," all the while sustaining the momentum of his story….. [a] book that will resonate with many successful urban men. The message is clear: marry wisely, then count your blessings and never leave New York." —Amy Finnerty, The New York Times Book Review
"[An] entertaining urban noir…. the colorful narrative voice will leave many readers wishing for more." —Publishers Weekly
"Harrison's latest (following The Finder) looks at postfinancial meltdown, post-Bernie Madoff Manhattan and not surprisingly delivers a reflective, elegiac tale. Serialization in the New York Times Magazine insures there are enough cliff-hangers to hold the attention of fans as well as new readers." —Library Journal
"Harrison's fleet seventh novel…. If this fast-paced, surprisingly reflective yarn doesn't measure up to Harrison's more ambitious thrillers (The Finder, 2007, etc.), it's well worth its price and length." —Kirkus
"In this latest thriller, Harrison (The Havana Room, 2004) puts the pedal to the metal and doesn't let up…. Harrison delivers a crime novel as gritty and electric as New York City itself." —Booklist
"If you missed Harrison's delightful thriller when it ran as a serial in the New York Times Magazine last year, forget about it. This new paperback edition is sharper, longer and much more fun to read." —Dick Adler, Barnes and Noble Review
"As an intriguing mystery about families, the power of money, and the insidious risks of living in a volatile post-modern world, Colin Harrison's seventh novel Risk is a sophisticated literary mystery that is sleek, stylish, and surprising," —Bookloons.com
"This is the territory of high finance, and the author casts a bright light on the upper echelons of the business environment…. a thoughtful and rewarding character study." —CurledUp.com
"A chilling, high-speed roller coaster of a ride that doubles as a sardonic sightseeing tour of the seamier side of New York City." —The New York Times on The Finder
"Harrison writes like Rambo on meth and throws in enough black humor to prove he's more brains than brawn. . . . The Finder is a keeper." —USA Today on The Finder
"A great read, an elegantly crafted thriller you won't want to put down." —The Washington Post on The Havana Room
"As sharp and insidery as a Tom Wolfe opus, with the giddyup pacing of an airport-rack paperback." —Men's Journal on The Havana Room
"Extraordinary . . . We're so in [the characters'] heads, so privy to their yearnings, their fears, that we practically become them. . . . A masterpiece." —The Washington Post on Afterburn
"One hell of a thriller. . . Colin Harrison's smart, jagged suspense novels are nonpareil." —The Oregonian on Afterburn
Book Videos