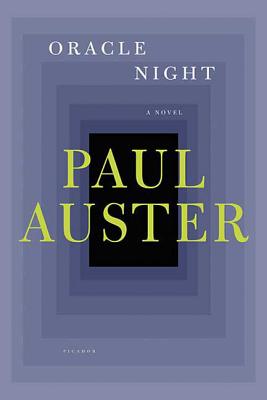 Oracle Night (Paperback)
Picador USA, 9780312428952, 243pp.
Publication Date: April 28, 2009
Description
Several months into his recovery from a near-fatal illness, thirty-four-year-old novelist Sidney Orr enters a stationery shop in the Cobble Hill section of Brooklyn and buys a blue notebook. It is September 18, 1982, and for the next nine days Orr will live under the spell of this blank book, trapped inside a world of eerie premonitions and bewildering events that threaten to destroy his marriage and undermine his faith in reality.
A novel that expands to fill volumes in the reader's mind, "Oracle Night" is a beautifully constructed meditation on time, love, storytelling, and the imagination by "one of the great writers of our time" ("San Francisco Chronicle").
About the Author
PAUL AUSTER is the bestselling author of Travels in the Scriptorium, The Brooklyn Follies, and Man in the Dark. I Thought My Father Was God, the NPR National Story Project anthology, which he edited, was a national bestseller. His work has been translated into thirty languages. He lives in Brooklyn, New York.
Praise For Oracle Night…
"As Auster's many admirers know, his narrative voice is as hypnotic as that of the Ancient Mariner. Start one of his books and by page two you cannot choose but hear."--Michael Dirda, The New York Review of Books
"Compulsively readable yet wonderfully complex and unsettling. The book is both a babushka doll of stories within stories and a literary Rubik's Cube, the solution of which, if there is one, is the very nature of reality."--The Boston Globe
"Auster shines as a fabulist and tale-teller, putting a high-modernist gloss on noir."--The New Yorker
"A joy to read."--The Economist
"It's urban mysticism, a poetry of the hidden and the almost forgotten, with the supernatural power deriving equally from the city and the novelist's imagination. . . . A snow globe of a novel."--New York magazine
"Oracle Night is a triumph for novelist Auster. It cements his growing reputation as one of America's most inventive and original writers."--The Seattle Times 
Advertisement