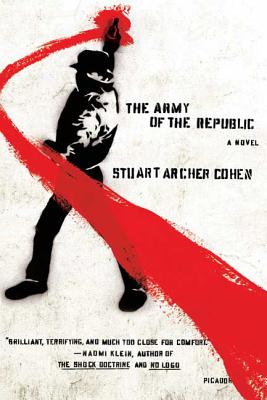 The Army of the Republic (Paperback)
A Novel
Picador, 9780312429058, 432pp.
Publication Date: September 29, 2009
* Individual store prices may vary.
Description
"One of the first works of art with the courage to live up to our historical moment. Brilliant, terrifying, and much too close for comfort."--Naomi Klein, author of The Shock Doctrine and No Logo
In a revolutionary America at the edge of our imagination, two men face off in a struggle for the future. On one side is Lando, a twenty-something urban guerilla whose obsession with saving the country drives his Army of the Republic deeper into a violent campaign of bombing and assassination. On the other side is James Sands, a billionaire entrepreneur so determined to preserve his privileges that he unwittingly hires death squads to hunt down and murder his own family. Against the backdrop of mass demonstrations and corporate armies, this thrilling kaleidoscopic novel explores the deeper issues of love, family, and lethal rebellion.
About the Author
Stuart Archer Cohen lives in Juneau, Alaska, with his wife and two sons. He owns Invisible World, an international company importing wool, silk, alpaca, and cashmere from Asia and South America. His novels Invisible World and 17 Stone Angels have been translated into ten languages.
Praise For The Army of the Republic: A Novel…
"That these 400-plus pages fly by so quickly is a credit to Cohen's plotting and his insight into the paranoid mind. . . . just try resisting the thrilling sequences where tech-savy insurgents plot audacious attacks with a sophistication that Robert Redford would have envied in Three Days of the Condor." —USA Today
"This timely, well-written, and very dark novel is a winner." —Library Journal
"A white-knuckle thrill ride that goes from zero to ninety-nine in the first paragraph and never slows down: Thomas Paine meets Rage Against the Machine." —David Maine, author of The Preservationish and Monster, 1959
"Chilling vision of a not-too-distant future . . . Mr. Cohen writes with conviction." —New York Times
"[An] extrapolation of trends and events in the very recent history of the country: wars of choice, the politics of fear, deregulation, oil shock, torture, and on and on. A few people will call [Stuart Archer Cohen's] polemical page-turner treasonous, but it should find plenty of supporters among those who think the country is moving in the wrong direction." —Booklist
"Cohen has captured an America...that is awakening, an America that is a long time coming, and an America that defies the old ways of thinking about change and politics." —Lew Rockwell
"I give my highest recommendation for The Army of the Republic. ... This was one that I could barely put down ... Not only is it educational & thought provoking, it is a fast paced thriller." —Michael Nystrom, Daily Paul, Ron Paul's unofficial site