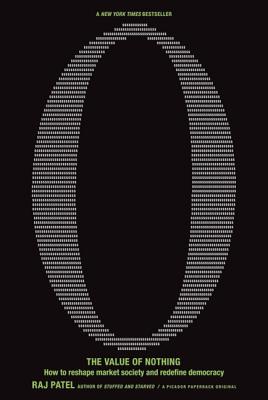 The Value of Nothing (Paperback)
How to Reshape Market Society and Redefine Democracy
Picador, 9780312429249, 256pp.
Publication Date: January 5, 2010
Other Editions of This Title:
Paperback (7/1/2010)
* Individual store prices may vary.
Description
"A deeply though-provoking book about the dramatic changes we must make to save the planet from financial madness."--Naomi Klein, author of The Shock Doctrine
Opening with Oscar Wilde's observation that "nowadays people know the price of everything and the value of nothing," Patel shows how our faith in prices as a way of valuing the world is misplaced. He reveals the hidden ecological and social costs of a hamburger (as much as $200), and asks how we came to have markets in the first place. Both the corporate capture of government and our current financial crisis, Patel argues, are a result of our democratically bankrupt political system.
If part one asks how we can rebalance society and limit markets, part two answers by showing how social organizations, in America and around the globe, are finding new ways to describe the world's worth. If we don't want the market to price every aspect of our lives, we need to learn how such organizations have discovered democratic ways in which people, and not simply governments, can play a crucial role in deciding how we might share our world and its resources in common.
This short, timely and inspiring book reveals that our current crisis is not simply the result of too much of the wrong kind of economics. While we need to rethink our economic model, Patel argues that the larger failure beneath the food, climate and economic crises is a political one. If economics is about choices, Patel writes, it isn't often said who gets to make them. The Value of Nothing offers a fresh and accessible way to think about economics and the choices we will all need to make in order to create a sustainable economy and society.
About the Author
Raj Patel, the author of Stuffed and Starved and The Value of Nothing, is an activist and academic who has been hailed as "a visionary" for his prescience about the food crisis.  Raj has worked for the World Bank and the World Trade Organization and has protested against them on four continents.  He is currently a visiting scholar at UC Berkeley's Center for African Studies, an Honorary Research Fellow at the School of Development Studies at the University of KwaZulu-Natal and a fellow at the Institute for Food and Development Policy, also known as Food First.
Praise For The Value of Nothing: How to Reshape Market Society and Redefine Democracy…
"With great lucidity and confidence in a dazzling array of fields, Patel reveals how we inflate the cost of things we can (and often should) live without, while assigning absolutely no value to the resources we all need to survive. This is a deeply thought-provoking book about the dramatic changes we must make to save the planet from financial madness -- argued with so much humor and humanity that the enormous tasks ahead feel both doable and desirable. This is Raj Patel's great gift: he makes even the most radical ideas seem not only reasonable, but inevitable. A brilliant book." —Naomi Klein, author The Shock Doctrine
"As we confront the crisis in the worldview of orthodox economics, Raj Patel offers us a whole new way to think about price and value. Bracingly written and full of surprises, The Value of Nothing is itself invaluable, showing us a path out of the darkness of the economic woods." —Michael Pollan, author of In Defense of Food and The Omnivore's Dilemma
"With THE VALUE OF NOTHING, Raj Patel has done something of great value: in language utterly clear, concise, literate, and engaging, he takes readers through the murk and mess of the economy's collapse. He shows the hows and whys, how we seem bent on a repeat (no real substantive changes to the practices that got us where we are, at the policy level), but also how we, in our communities, if not larger concerted efforts, have some power to right the course. What Raj Patel did so brilliantly with food in STUFFED AND STARVED, he now does so with money and the economy." —Rick Simonson, Elliott Bay Book Company
"In this riveting eye-opener of a book, Patel dismantles with great fluidity and precision the reigning theory of the free market and its applications: how it creates in our global society deep inequalities of power, based solely on the diktat that our fundamental needs (water, decent food, housing, health care) are worthless because not profitable, and thus leading to economic chaos and a loss of community empowerment. But there is also hope in the emergence of social groups around the world who are insisting and reclaiming 'the right to have rights' through their democratic engagement. Patel brilliantly shows us how both a fairer society and a sustainable economy are possible as long as we are willing to seize back our freedom to choose from colluding governments and corporations. 'The Value of Nothing' should be required reading for any self-respecting citizen of the world." —Marie du Vaure, Vroman's Bookstore
"It's only January 2010, and we already have a candidate for the most important book of the year. Raj Patel's The Value of Nothing takes aim at the conservative orthodoxy that has dominated American politics and economics for the last several decades, and he scores a direct hit." —Bill Petrocelli, Book Passage
Book Videos
or
Not Currently Available for Direct Purchase