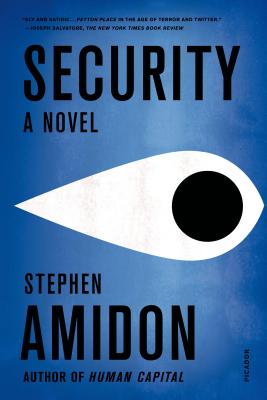 Security (Paperback)
A Novel
Picador, 9780312429317, 288pp.
Publication Date: February 2, 2010
Other Editions of This Title:
Hardcover (2/3/2009)
* Individual store prices may vary.
Description
There isn't much crime in Stoneleigh, Massachusetts, a college town, a mountain getaway for the quietly rich. So when Edward Inman, owner of Stoneleigh Sentinel security, gets a late-night alarm from the home of one of his wealthiest clients, Doyle Cutler, he does a routine check and thinks nothing more of it—until a local student claims that she was sexually assaulted that night at Cutler's house.
Edward soon finds himself drawn into the girl's story, and his investigation leads him to his old girlfriend, whose teenage son may know the truth about what happened that night. Security is a timely, wry, and riveting story of adults and children, secret lives and civic culture, suspicion and sexual hysteria.
About the Author
STEPHEN AMIDON's previous books include The New City and Subdivision. He lived and worked in London for fifteen years before returning to the United States, where he lives in Greenfield, Massachusetts, with his wife and children.
Praise For Security: A Novel…
"Sly and satiric . . . Peyton Place in the age of terror and twitter." —Joseph Salvatore, The New York Times Book Review
"Amidon once again displays his unerring facility for sniffing out the shaky foundations of our lives." —Stewart O'Nan, The Washington Post
"Reading Security is a bit like waking up at four in the morning and surveying familiar bedroom objects in--literally--a new light. . . . Good fences may make good neighbors, but bad neighbors make better novels." —Molly Young, The New York Observer
"A gripping account of scandal and fear in outer suburbia." —Financial Times
"With his dry ironies and his skill in probing beneath the comfortable veneer of his characters' lives, Amidon tells us more than many writers with greater pretensions. . . . Beneath the surface of his subtle and absorbing narrative lurk paranoia and the refusal to face up to disquieting truths." —Nick Rennison, The Sunday Times (London)
"A gripping, troubling, and incisive portrait of the way we live now . . . Has the ambitious sweep and narrative power of a nineteenth-century novel." —Tom Perrotta, author of Little Children on Human Capital
"Like Rosellen Brown's Before and After and Scott Spencer's Endless Love, Human Capital grounds [its] plot in meticulously observed social details, its relentless pacing in some shrewd psychological insights. And Mr. Amidon proves himself a nimble storyteller, providing the reader with a solid, literate and consistently compelling tale." —Michiko Kakutani, The New York Times on Human Capital
"Amidon's novel is a wonderfully wicked satire on a twenty-first-century gilded age . . . His book is more than just one family's story. It's a portrait of a whole society caught in a dead end that everyone insists will lead somewhere after all." —Michael Shelden, Chicago Tribune on Human Capital
"Amidon has achieved the rare alchemy of creating a novel charged with suspense from the lives of ordinary suburban families; it's also an unflinching social commentary that has the potential to endure as a clear and literate portrait of its time." —Stephanie Merritt, The Observer (London) on Human Capital