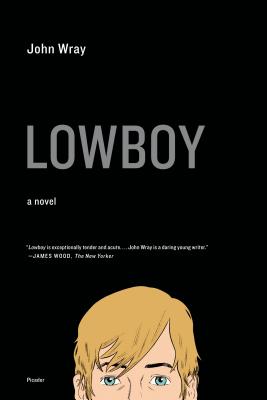 Lowboy
A Novel
Paperback

* Individual store prices may vary.
Other Editions of This Title:
Audio Cassette (4/1/2009)
MP3 CD (4/1/2009)
Compact Disc (3/15/2012)
Compact Disc (4/1/2009)
Description
Early one morning in New York City, Will Heller, a sixteen-year-old paranoid schizophrenic, gets on an uptown B train alone. Will is on a mission to save the world from global warming—to do it, though, he'll need to cool down his own body first. And for that he'll need one willing girl.

Lowboy tells the story of Will's odyssey through the city's tunnels, back alleys, and streets in search of Emily Wallace, his one great hope. It also follows his mother, Violet Heller, as she tries desperately to find her son before psychosis claims him completely. Violet is joined by Ali Lateef, a missing-persons specialist, who learns over the course of the day that more is at stake than the recovery of a runaway teen: Will Heller has a chilling case history, and Violet—beautiful, enigmatic, and as tormented as her son—harbors a secret that Lateef will discover at his own peril.
Praise For Lowboy: A Novel…
"The novel has a thriller-like pace, and Wray keeps us riveted and guessing, finding chilling rhetorical and pictorial equivalents for Will's uniquely dysfunctional perspective . . . The suspense is expertly maintained, straight through the novel's dreamlike climactic encounter and heart-wrenching final paragraph. The opening pages recall Salinger's Holden Caulfield, but the denouement and haunting aftertaste may make the stunned reader whisper "Dostoevsky." Yes, it really is that good." —Kirkus (starred)

"John Wray is less interested in Lowboy's picaresque circuits than in his mental circuits, whose damaged condition is brilliantly, compassionately evoked in the novel . . . Wray is never boring, largely because he has an uncanny talent for ventriloquism, and he seems to know, with unerring authority, how to select and make eloquent the details of Lowboy's illness . . . What is impressive about the book is its control, and its humane comprehension of radical otherness . . . Lowboy is exceptionally tender and acute . . . John Wray is a daring young writer." —James Wood, The New Yorker

"Lowboy is uncompromising, gripping and generally excellent . . . One of the novel's many pleasures is just going along: putting yourself fully in the hands of the story and its author, being drawn in, gradually immersed, making the connections . . . By the time it all falls into place, the reader is long hooked and turning back is not an option . . . This is a meticulously constructed novel, immensely satisfying in the perfect, precise beat of its plot . . . I'd be proud to be seen reading this novel on the downtown 6, or anywhere else at all." —Charles Bock, The New York Times Book Review

"John Wray captures Lowboy almost immediately and gives him to us in intense, sharp pages." —Alan Cheuse, NPR

"Lowboy is a smart, moving thriller, and a deeply imaginative one, too . . . [The] hurtling plot makes it the sort of book you read in a few big gulps, but its complicated teen character--at once intensely familiar and completely foreign--sticks around for days after you're done." —Izzy Grinspan, Time Out New York

"A breathtaking journey." —Cathleen Medwick, O, The Oprah Magazine

"It's everything a solid book should be: a fast fun deranged grim thoughtful romp through the minds of a devastatingly nuanced cast of characters . . . The last 100 pages of Lowboy are a marvelous, unpredictable sprint. This is the sort of novel that you brew coffee at midnight to finish. It demands your attention, despite the duties of the next day. It demands the kind of singular purpose Wray might just be warning us about." —Joshua Mohr, The Rumpus

"A mostly masterful fictional study of human relationships in the shadow of insanity . . . In Lowboy's fragilely constructed, all-fantasies-realized universe, every chapter ends with a bang, and the final one is no exception." —Todd Dills, Time Out Chicago

"You'll tear through the pages . . . A lip-biting thriller to the finish." —Sarah Z. Wexler, Marie Claire

"[Wray] succeeds with a brisk plot and odd moments of humor. The story's final grimness is tough, but it's hard not to admire this bullet train of a book for its chilling power." —Stacey Levine, Bookforum

"Wray is an obviously gifted writer, who treatment of Will is a tour de force of empathy, style, and imagination." —Booklist

"John Wray's Lowboy is a psychotic, subterranean, environmentally conscious, coming-of-age novel. It is also an affecting and affectionate love letter to New York. Lowboy is John Wray at his highest." —Nathan Englander, author of Ministry of Special Cases

"Through the windows of John Wray's rumbling express, we catch sight of the deep darkness that lives inside the human psyche. Lowboy is a riveting and disturbing ride, illuminating one adolescent boy's shadowy underground, and giving us glimpses of our own as well." —Colson Whitehead, author of Apex Hides the Hurt

"America's most original young writer has given us a book for the ages. Compelling, compassionate, and deeply unsettling, Lowboy introduces us to the brilliant sixteen-year-old Will Heller, a hero as three-dimensional as any in recent fiction, a Holden Caulfield for our troubled times." —Gary Shteyngart, author of The Russian Debutante's Handbook and Absurdistan

"Wray's captivating third novel drifts between psychological realities while exploring the narrative poetics of schizophrenia. . . . Wray deploys brilliant hallucinatory visuals, including chilling descriptions of the subway system and an imaginary river flowing beneath Manhattan. In his previous works, Wray has shown that he's not a stranger to dark themes, and with this tightly wound novel, he reaches new heights." —Publishers Weekly (starred)

"Wray presents a powerful and vivid portrait of Will's mental state, believably entering into his apocalyptic vision of the world." —Library Journal

"Lowboy sucks you into the tunnels under NY and doesn't let you go until its perfect ending. Wray effortlessly portrays the cracked and distorted mind of his teenage hero. What a beguiling novel." —Tim Pears, author of In The Place of Fallen Leaves

"Comparisons to J. D. Salinger's The Catcher in the Rye or Stephen Chbosky's The Perks of Being a Wallflower are inevitable." —Karen E. Brooks-Reese, School Library Journal

"Lowboy is a brilliant and gusty performance . . . It expresses its meanings in hallucinated events that seem to vibrate on the page." —Mark Shechner, The Buffalo News

"John Wray's third novel, one of the most anticipated books of the spring, has the makings of an American classic. Lowboy also represents Wray's arrival as a major author." —Andrew Ervin, The Miami Herald

"A fast-paced thriller . . . This virtuosic novel . . . is a masterpiece of aural description." —Laurence Lowe, GQ

"Lowboy is haunting and uncomfortable, in the best way possible--it's a pleasure to read." —Fernanda Diaz, Flavorwire

"John Wray displays an impressive command of both suspense and tragedy." —The Week

"The book casts a spell . . .Wray's prose . . . is full of dreamlike images and startling similes." —Taylor Antrim, The Daily Beast

"The novel moves seamlessly . . . This kind of pacing is the stuff we crave (and we think you will, too)--the kind that draws you in so unawares that before you know it, it's past midnight and you're down to the last page." —Anne, Amazon.com

"[Wray's] third novel, Lowboy, is his best yet . . . Lowboy is told in a series of impressionistic flashes . . . and it moves with extremely confident speed to its heart-wrenching conclusion." —Steve Donoghue, The OLM Blog, Open Letters

"Wray's writing is tremendously smart and perceptive." —Alison Hallett, The Portland Mercury

"Occasionally comical and consistently tragic, Lowboy is an engaging novel with a difficult subject." —Mark Flanagan, About.com

"[Lowboy is] truly remarkable!" —Leah Taylor, Flavorwire

"Wray's breakthrough novel . . . will likely be filed alongside the work of his bestselling Brooklyn contemporaries. Lowboy's meticulous mapping of metropolitan myth recalls Paul Auster's City of Glass and nods to the genre tics of Jonathan Lethem's Motherless Brooklyn . . . This poetic, stirringly strange novel offers an empathic reminder that, for many, the light at the end of the tunnel can be taken for a harbinger of doom." —Akiva Gottlieb, Los Angeles Times

"Wray captures Lowboy almost immediately and gives him to us in intense, sharp pages that burst in our minds as we read . . . When you're reading Lowboy you know, in the hands of its talented young creator, that it's certainly the best thing." —Alan Cheuse, Chicago Tribune

"Strange and splendid . . . What makes Lowboy extraordinary is its rapt conviction, not the cool manipulation of plot devices." —Craig Seligman, Bloomberg.com

"John Wray's latest novel, Lowboy, is a compelling tale that captures the foreign internal and external landscapes of a teenager with mental illness . . . Wray depicts Will's descent into both the subway system and mental illness in clear, glittering prose . . . John Wray's writing itself is like a blessing, and reading Lowboy, while not a religious experience, is perhaps as close as a person can come to experiencing the mix of poignant and desperate emotions and actions that come together in a teenager with mental illness." —Doug Robins, Sacramento Book Review

"John Wray's prose is at once spare and powerful, comic and profound, and as his protagonist's fate unfolds, the suspense rises until the very last line." —Sandra Mangan, The Evening News

"Wray has created a novel that is rich in characters and insights. You may be able to finish it in half a day, but William's view of the world will almost certainly stay with you for longer." —Marcel Thee, Jarkarta Globe

"[Lowboy] is weird and horribly sad, but balanced and completely believable. [It] will leave a gnawing pain in your stomach, like hunger or fear or the feeling that he's got it all right." —Micah Ling, Keyhole

"Dizzyingly seductive . . . Making your central character deeply insane is, of course, a risky and ambitious trick, but Wray carries it off with a fluid, inventive style that rises at times to a frightening pitch." —Michael Lindgren, The Washington Post

"Wray's pacing is superb . . . [and his] writing shines . . . This is a fine novel by a talented writer." —Gordon Houser, The Wichita Eagle

"Wray spins out an increasingly suspenseful, psychologically astute narrative, perfectly pitching the voice to accommodate each character's particular motivations." —Eric Liebetrau, Paste Magazine

"Lowboy is an incredibly competent novel from a young, clearly passionate writer . . . Wray deposits moments of exposition at key points in his apparent madcap narrative, showing the careful planning and loving consideration of a first-rate writing talent. His prose flies along with the unstoppable force of a subway train, but he can still make me pause and wring my heart out over poor Lowboy." —Jillian J. Goodman, The Harvard Crimson

"John Wray handles it all masterfully in this odd story [that is] part sci-fi parable, part mental health drama, part love story." —Ralph Greco, Jr., Short and Sweet NYC blog

"Masterful . . . 'Lowboy' is at its best at its most unflinching. Like Ken Kesey, Wray has a keen ear for the language of madness--the scripts, the shrinks, the straightjackets and the electric shocks." —Matthew Shaer, The San Francisco Chronicle
Picador, 9780312429331, 272pp.
Publication Date: February 2, 2010
About the Author
John Wray is the author of critically acclaimed novels including Lowboy, The Right Hand of Sleep and Canaan's Tongue. He was named one of Granta magazine's Best of Young American Novelists in 2007. The recipient of a Whiting Award, he lives in Brooklyn, New York.
Book Videos