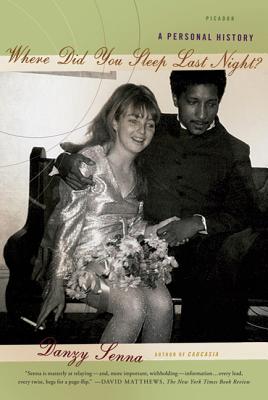 Where Did You Sleep Last Night? (Paperback)
A Personal History
Picador, 9780312429393, 208pp.
Publication Date: March 30, 2010
* Individual store prices may vary.
Description
When Danzy Senna's parents married in 1968, they seemed poised to defy history: two beautiful young American writers from wildly divergent backgrounds—a white woman with a blue-blood Bostonian lineage and a black man, the son of a struggling single mother and an unknown father. When their marriage disintegrated eight years later, the violent, traumatic split felt all the more tragic for the hopeful symbolism it had once borne.
Decades later, Senna looks back not only at her parents' divorce but at the histories that they had tried so hard to overcome. In the tradition of James McBride's The Color of Water, Where Did You Sleep Last Night? is "a stunningly rendered personal heritage that mirrors the complexities of race, class, and ethnicity in the United States" (Booklist).
About the Author
Danzy Senna is the author of the novels Caucasia and Symptomatic, the story collection You Are Free, and the nonfiction book Where Did You Sleep Last Night? A Personal History.
Praise For Where Did You Sleep Last Night?: A Personal History…
"A keen examination of a utopian-minded marriage scarred by America's racially divided past." —Vogue
"Stirring . . . Caught between her parents' divergent histories, Senna finds her own identity at odds with itself, despite having been cultivated in a sort of bohemian 'new world order.' Senna relates these winding, uncertain stories with a sense of quiet devastation. She's as fiercely driven to unearth her parents' pasts as they were eager to rise above them." —Eryn Loeb, Time Out New York
"Senna's spare style allows her to maintain control of this emotionally painful material. . . . Her descriptive skills are precise, with humor and humanity shining through at unexpected moments. An impressive feat, packing so much into a short book." —Ariel Gonzalez, Miami Herald
"[Senna is] masterly at relaying--and more important, withholding--information, so that every lead, every twist, begs for a page-flip . . . The author propels these early chapters along with the kind of snappy knockout prose Ross Macdonald might have employed, had he been given to long ruminations on race and identity in American culture . . . Her observations are often nod-inducingly brilliant." —David Matthews, The New York Times Book Review
"Wistful yet bitter-toned . . . a haunting, introspective meditation on race and family ties that tackles the tricky questions involved in constructing identity." —Publishers Weekly, Pick of the Week, March 9
"Senna, author of Caucasia and Symptomatic, offers a stunningly rendered personal heritage that mirrors the complexities of race, class, and ethnicity in the U.S." —Booklist, starred review
"Quietly reflective and gorgeously written." —Kirkus Reviews
"There are stories we need to find, and stories that must be told. In this masterful work of seeking and telling, hoping and letting go, Danzy Senna stalks her ancestral past like an attorney assembling the case of a lifetime. Her closing remarks prove that as improbable as it sounds, the people of this great country we call America really are indivisible; we truly are one. This book is a great gift. Read it." —Rebecca Walker, author of Black, White, and Jewish: Autobiography of a Shifting Self
"In her courageous portrait of the tumultuous union between her Boston Brahmin mother and her enigmatic black father, Danzy Senna offers a powerfully personal take on the progress of American race relations since the civil rights movement. Where Did You Sleep Last Night? reminds us of the consequences of our origins and our inescapable desire to make sense of them." —Bliss Broyard, author of One Drop : My Father's Hidden Life—A Story of Race and Family Secrets