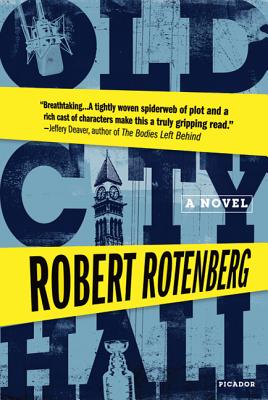 Old City Hall (Paperback)
Picador USA, 9780312429409, 372pp.
Publication Date: March 30, 2010
Description
"Breathtaking . . . A tightly woven spiderweb of plot and a rich cast of characters make this a truly gripping read." Jeffery Deaver, author of "The Bodies Left Behind"
The murder of a Toronto radio host's wife engulfs the lives of cops, lawyers, and a journalist in this sprawling legal thriller.
It should be an open and shut case. Canada's leading radio-show host, Kevin Brace, has confessed to killing his young wife. The trouble is, after muttering his last incriminating wordes --"I killed her"-- he now refuses to talk to anyone, including his own lawyer.
With the discovery of strange fingerprints at the crime scene, and a revealing courtroom cross-examination, the seemingly simple case begins to take on all the complexities of a hotly contested murder trial.
In the tradition of defense lawyers-turned-authors such as Scott Turow and John Grisham, Toronto-based defense counsel Robert Rotenberg delivers a debut legal thriller.
About the Author
Robert Rotenberg is one of Toronto's top lawyers, defending, as he likes to say, "everything from murder to shoplifting." He lives in Toronto with his wife, a television producer at CBC News; their three children; and their little dog, Fudge.
Praise For Old City Hall…
"An amazing debut novel.  Robert Rotenberg's Old City Hall has everything a legal thriller should have, and more: absolutely engaging characters, a tight, taut, and believable plot, a heart-quickening pace, and, best of all, some of the finest writing I've read in years. This one has winner written all over it." —Nelson DeMille, author of The Gate House
"Rotenberg juggles a large cast and spins his twisty yarns efficiently." —
Entertainment Weekly
"The plot is chock-full of atmospheric tension. . . . Old City Hall has enough hidden motives and gumshoeing to make it a hard-boiled classic." —Nathaniel G. Moore, The Globe and Mail (Toronto)
"A roller coaster of a legal thriller . . . an outstanding and fast-paced plot, well-developed characters with depth and personality, great dialogue, plenty of courtroom and investigative drama, and an explosively satisfying conclusion." —
Library Journal


"[Rotenberg] has got it all -- pace, good characters, tension, and an intriguing plot. . . . The resolution is clever and surprising." —
The Times Literary Supplement
(UK)
"Robert Rotenberg's Old City Hall is one of the best books I've read in ten years. I devoured it in two sittings. Rotenberg is a criminal defense attorney, defending lowlifes and celebrities alike in Toronto, and he really knows his clients. His characters are stunningly good. They're real people. His Toronto settings make this most multicultrual city in North America come alive. He writes with assurance and panache. He has a series of characters who may well become a classic. He even has a sense of humor. This is one of those novels where you only need to read the first chapter to be swept away. If Old City Hall doesn't win an Edgar, I'll trade in my pen for a fishing rod..." —Douglas Preston, author of The Monster of Florence
"Clever, complex and filled with an engaging cast of characters, Old City Hall captures the vibrancy and soul of Toronto." —Kathy Reichs, author of Devil Bones
"Breathtaking . . . and all the more so because this is the author's first novel. A tightly woven spiderweb of plot and a rich cast of characters make this a truly gripping read. And of particular interest is the setting: Robert Rotenberg does for Toronto what Ian Rankin does for Edinburgh." —Jeffery Deaver, author of The Bodies Left Behind
Advertisement