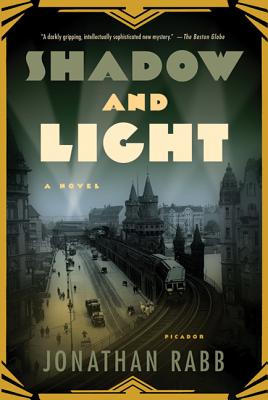 Shadow and Light (Paperback)
Picador USA, 9780312429416, 383pp.
Publication Date: March 30, 2010
Description
Berlin, 1927. When a studio executive at Ufa -- the home of German Cinema -- is found dead in his office bathtub, Herr Kriminal-Oberkommissar Nikolai Hoffner is determined to uncover the truth behind what he firmly believes is murder. With the help of Fritz Lang and Alby Pimm, the leader of the most powerful crime syndicate in Berlin, Hoffner finds his case taking him beyond the world of film and into the far more treacherous landscape of Berlin's sex and drug trade, the rise of Hitler's Brownshirts, and the even more astonishing attempts by onetime monarchists to rearm a post-Versailles Germany. Jonathan Rabb's Shadow and Light is an electrifying thriller set in a darkly beautiful Berlin poised on the edge of destruction.
About the Author
Jonathan Rabb is the author of the novels Rosa, The Overseer, and The Book of Q. He lives in New York with his wife and two children.
Praise For Shadow and Light…
"A darkly gripping, intellectually sophisticated new mystery." —The Boston Globe
"Rabb has a gift for capturing the intoxicating -- and toxic -- atmosphere of post-World War I Berlin. . . . His gallery of real-life characters, scattered across the fictional landscape, lends a touch of Ragtime-like fun." —The New York Times Book Review
"An innovative historical detective mystery . . . gives a haunting, dark portrait of Berlin society in the Weimar Republic." —The Denver Post
"Rabb's brilliantly plotted narrative leads his detective past dead ends and red herrings to the discovery that much more is at stake. . . . We can expect some spectacular explosions when next we meet his wounded detective in his beloved, battered city." —The Washington Post
"An ambitious historical mystery novel that beautifully blends escapist adventure with a surprisingly compelling underpinning of spiritual and moral ambiguity . . . terrific reading." —The Boston Globe

"Atmosphere is all in Jonathan Rabb's brooding new mystery . . . brilliantly plotted narrative . . . Rabb writes so well and the mood he creates is so haunting." — Wendy Smith, The Washington Post  "Set in 1927 Germany, Rabb's superb sequel to Rosa correlates the advent of talking movies with the rise of Nazism. When Kriminal-Oberkommisar Nikolai Hoffner investigates the apparent suicide of an Ufa film studio executive, the trail leads the Berlin policeman to the sex and drug trade as well as to the National Socialist German Workers Party's local leader, Joseph Goebbels. Working with Helen Coyle, an attractive American talent agent for MGM, Hoffner learns how cutthroat the picture business is. Rumors of films with sound threaten to change the industry. "Without sound, all you have is shadow and light," an inventor tells Hoffner. With sound, movies can do a lot more than entertain, as soon to be shown by Nazi propaganda films and newsreels. Rabb's meticulous research brings to life a corrupt society vulnerable to extremism. Well-conceived cameos by director Fritz Lang and actor Peter Lorre add to the intrigue." —Publishers Weekly (starred review) "Weimar Berlin's legendary film industry provides the cinematically dissolute milieu for Jonathan Rabb's stylish noire Shadow and Light, in which Fritz Lang himself makes a cameo." —Vogue  "Rabb's second entry in his German trilogy is both a first-rate historical novel and a singularly artful crime noir that will remind readers of Alan Furst (The Spies of Warsaw). That's good company! Enthusiastically recommended." —David Keymer, Library Journal "There's plenty of Weimar decadence on view here, but it's the fascinating slice of film history overlaid with a sense of the gathering storm that gives the novel its punch. That and Hoffner himself, a noir hero in every way, from his unquenchable thirst for potables to the inevitability with which he finds himself caught in the riptide of history." —Bill Ott, Booklist (starred review) "Rabb to call on his true strengths as a writer, most notably his atmospheric evocation of time and place. The city itself is an important character in the book, and Weimar Berlin is brilliantly portrayed in all its gritty decadence and postwar opportunism. . . Shadow and Light is an entertaining book that demands a bit more concentration than most books in the genre, but the effort pays off." —Robert Weibezahl, Bookpage "A suspicious suicide at a film studio sets off a chilling chain of events in the second of Rabb's Berlin-between-the-wars trilogy (Rosa, 2005). In 1919, Nikolai Hoffner was a Berlin detective with a bleak worldview. Now it's eight years later, and to describe Hoffner's worldview as bleak would be an unpardonable understatement, like calling Hitler mean-spirited. Herr Kriminal-Oberkommissar (Chief Inspector) Hoffner sees both Berlin and himself as beyond redemption—the city because it has sunk into joyless decadence; himself because in the vital roles of husband and father he's been so total and abject a failure. All he shares with his sons, 16-year-old Georgi and 24-year-old Sascha, is the unshakable belief that he was responsible for the death of their mother. Still, he is once and forever a cop, unalterably skilled and efficient, and a cop's got to do what he's hard-wired to do." —Kirkus Reviews "Fritz Lang is more than simply a character in Jonathan Rabb's deliciously sinister new novel: Shadow and Light inhabits the same chiaroscuro world as Doktor Mabuse and M., but imbues it with a subtlety and elegance all its own. Rabb's Berlin is an irresistibly beguiling city, but I wouldn't want to find myself alone there at night. What a delightful novel." —John Wray, author of Lowboy  "I loved Shadow and Light. Viciously imaginative, chillingly plausible, Rabb's novel re-awakens Berlin in the 1920s—a city of aged youth and weary sin, where decency is as fragile as celluloid." —Jason Goodwin, author of The Bellini Card
Advertisement