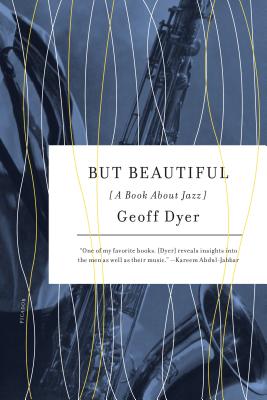 But Beautiful (Paperback)
A Book about Jazz
Picador USA, 9780312429478, 227pp.
Publication Date: November 10, 2009
* Individual store prices may vary.
Description
"May be the best book ever written about jazz."--David Thomson, Los Angeles Times
In eight poetically charged vignettes, Geoff Dyer skillfully evokes the music and the men who shaped modern jazz. Drawing on photos, anecdotes, and, most important, the way he hears the music, Dyer imaginatively reconstructs scenes from the embattled lives of some of the greats: Lester Young fading away in a hotel room; Charles Mingus storming down the streets of New York on a too-small bicycle; Thelonious Monk creating his own private language on the piano. However, music is the driving force of But Beautiful, and wildly metaphoric prose that mirrors the quirks, eccentricity, and brilliance of each musician's style.
About the Author
Geoff Dyer is the author of Out of Sheer Rage: Wrestling with D.H. Lawrence, and Ways of Telling, a critical study of John Berger; The Missing of the Somme, about World War I; and the novels Paris Trance, The Color of Memory, and The Search.
Praise For But Beautiful: A Book about Jazz…
"Achingly gorgeous . . . evokes the lives of working musicians so that you taste the whiskey, smell the stubbed cigarettes, hear the gentle clicking of the valves, the coughs, and shuffling feet between studio takes."--Jonathan Lethem, Entertainment Weekly "The only book about jazz that I have recommended to my  friends.  It is a little gem."--Keith Jarrett "A masterful effort, which comes as close to the music's essence as prose can go."--Ted Gioia, San Francisco Chronicle "Dyer turns jazz into poetry and his subjects into a beautiful sad music....Few will be unmoved by his passion and eloquence and the harrowing portraits of jazz's haunted geniuses."--Tom Graves, The Washington Post Book World  "A gorgeous and lyrical collection of nocturnal jazz reveries."--The New Yorker
"But Beautiful is just that, a moving and highly original tribute to Black American music."--Bryan Ferry
"An ingenious and brilliantly written book."--Richard Bernstein,
The New York Times
"Startlingly vivid . . . a brilliant work . . . the written equivalent of a jazz performance . . . [Dyer] has created an unforgettable melody of his own."--Matt Schudel, The Atlanta Journal Constitution
Book Videos