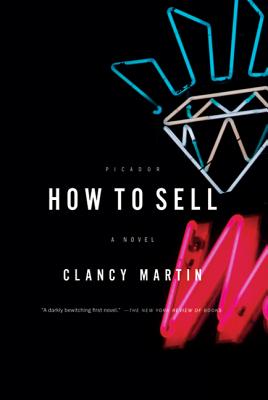 How to Sell (Paperback)
A Novel
Picador, 9780312429645, 304pp.
Publication Date: April 27, 2010
Other Editions of This Title:
Hardcover (5/12/2009)
Compact Disc (5/12/2009)
Pre-Recorded Audio Player (6/1/2009)
MP3 CD (5/12/2009)
Compact Disc (5/12/2009)
* Individual store prices may vary.
Description
Bobby Clark is just sixteen when he drops out of school to follow his big brother, Jim, into the jewelry business. Bobby idolizes Jim and is in awe of Jim's girlfriend, Lisa, the best saleswoman at the Fort Worth Deluxe Diamond Exchange.
What follows is the story of a young man's education in two of the oldest human passions, love and money. Skilled at the art of persuasion, Bobby is drawn to Lisa, but also to the myriad scams and frauds of the jewelry trade, where the power to appraise also means the power to bait and switch and cheat like hell. Clancy Martin's gripping debut novel takes us behind the counter, where diamonds and watches aren't the only precious commodity.
About the Author
Clancy Martin worked for many years in the fine jewelry business. He is an associate professor of philosophy at the University of Missouri. He has translated works by Friedrich Nietzsche and Søren Kierkegaard and is the author of How to Sell.
Praise For How to Sell: A Novel…
"Dirty, greatly original, and very hard to stop reading." —Jonathan Franzen
"How to Sell is outrageous, theatrical and slicker than oil. It tells the tale of Bobby Clark, a high-school dropout who joins his older brother at a jewelry emporium in Texas. It's a festival of drugs, diamonds and sex. Quality is nice, but any drugs, any sex and any diamonds will do, because anything can be spun into something better. Prostitution, a saleswoman turned hooker suggests at one point, is a more honest kind of living than the jewelry trade (at least in this book). 'With what I do now,' she tells Bobby, 'I sleep well at night.' . . . With How to Sell, Martin has written a gem of a story. Selling it probably won't be hard. The bigger challenge for Martin might be to learn how to stop selling." —Louisa Thomas, Newsweek
"How to Sell is, with memorably dark comedy, a virtual handbook on fraud. The world the Clark boys build for themselves and teeter precariously upon--one driven by wads of cash, adrenaline, an indiscriminate lust for sex and money, and a misunderstanding of what in life is really at stake--is a compelling setting for Martin's propulsive storytelling. His narration feels cinematic, the sets and scenery popping off the page. With remarkable skill as the story spools out, Martin omits just enough exposition and interior insights to keep his characters shrouded in mystery, as if constantly reminding us that we'll always be the customer, never the insider. Speaking of customers, prepare to be a much shrewder one after reading How to Sell." —Rachel Rosenblit, Elle
"A timely meditation on greed and the American Dream." —Men.style.com
"It's a lean and mean book, perfect for those who distrust all this recent talk about change. The kind of novel--cool and dark--that goes with you to the beach and then keeps you thinking at night." —Benjamin Alsup, Esquire
"Clancy Martin writes with no-nonsense punch, detailing the schemes--fake certificates, 'antiques'--shady jewelers have been running for centuries. If the sentences in How to Sell feel lived-in, well, that's because the author himself is a former con man, borrowing liberally from the gem-scam life before going straight (He's a philosophy professor now; go figure.) By the time you're hooked on the book's insidious plot twists, concerning sibling rivalry and a meth-addicted mistress who sleeps better hooking than she does selling Faux-lexes, you're blissfully unaware you're downing a metaphor: No commission can buy you a soul." —Adam Baer, GQ
"It's hard to imagine a more seductive blurb than that delivered by Jonathan Franzen for Martin's first novel. Here goes: 'Dirty, greatly original, and very hard to stop reading.' Sex, of course, may sell, but Martin's wicked take on money, the jewelry business and American passions could prove to have multiple pleasures. Oh, and by the by, Martin teaches philosophy at the University of Missouri-Kansas City and bases his book, at least in part, on an earlier life as a jewelry salesman in Texas." —Kansas City Star
"A tender yet hardboiled coming-of-age story, a vivid, sometimes philosophical portrait of yearning and greed, of human love and human spoilage--all of it mirrored in stripped-down, addictive prose. Clancy Martin has written a scary, funny blaze of a book." —Sam Lipsyte
"The feeling you get from the moment you open Clancy Martin's superb novel is one of inevitability. This is the inevitability of truth-telling, of tragedy, of the setup to a good joke, and, very possibly, the inevitability of the classic." —Benjamin Kunkel
"How to Sell is a bleak, funny, unforgiving novel. It's a little like Dennis Cooper with a philosophical intelligence, or Raymond Carver without hope. But mostly it's like itself. It is about how we buy and sell everything--merchandise, drugs, sex, trust, power, peace of mind, religion, friendship, and each other. It's written extremely finely, with wit and enviable self-control. A genuinely fresh, disconcerting voice." —Zadie Smith
"A funny, quirky takedown of the American dream. A bastard child of John Updike and Mordecai Richler, How to Sell grabs you by the tuchus and doesn't let go." —Gary Shteyngart