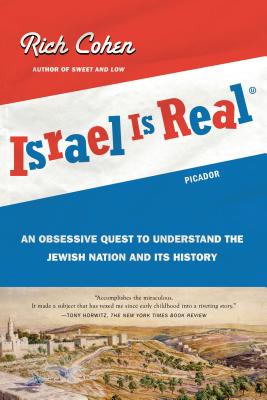 Israel Is Real (Paperback)
Picador USA, 9780312429768, 383pp.
Publication Date: June 22, 2010
Description
A NEW YORK TIMES BOOK REVIEW EDITORS' CHOICE
A SAN FRANCISCO CHRONICLE BESTSELLER
In AD 70, when the Second Temple was destroyed, a handful of visionaries saved Judaism by reinventing it, taking what had been a national religion and turning it into an idea. Whenever a Jew studied--wherever he was--he would be in the holy city, and his faith preserved. But in our own time, Zionists have turned the book back into a temple, and unlike an idea, a temple can be destroyed. With exuberance, humor, and real scholarship, Israel is Real offers "a serious attempt by a gifted storyteller to enliven and elucidate Jewish religious, cultural, and political history . . . A powerful narrative" (Los Angeles Times).
About the Author
RICH COHEN is the author of Sweet and Low (FSG, 2006), Tough Jews, The Avengers, The Record Men, and the memoir Lake Effect. His work has appeared in many major publications, and he is a contributing editor at Rolling Stone. He lives with his family in Connecticut.
Praise For Israel Is Real…
"Accomplishes the miraculous. It made a subject that has vexed me since early childhood into a riveting story . . . by narrating the oft-told saga of the Jews in a fresh and engaging fashion. Provocative and entertaining … Cohen brings tough love to Judaism and modern Israel."—Tony Horowitz, The New York Times Book Review
"A smart, energetic overview of the history of Israel and its relation to the Jewish people, from biblical times to the present. Cohen's narrative is propelled by muscular prose and an irreverent wit at times reminiscent of Jon Stewart. . . . Absorbing, clear-eyed history." —
The Boston Globe
"A sweeping and impressionistic saga . . . [which] also happens to be a page-turning delight to read. What other book about Zionist history has ever included references to "Howl," "Goodfellas," Joseph Mitchell, and Willie Dixon? I commend and admire this book." —Samuel G Freedman,
Chicago Tribune


"Makes complex history simple and witty without losing sight of the big ideas." —
New York
Magazine
"Intoxicating . . . Cohen has maverick tendencies and a wicked sense of irony, coupled with a bristling ambivalence about all dogma that permeates his search for understanding. . . . Wild-eyed and thoughtful." —
The Jerusalem Post


"Cohen is thorough in his research and thoroughly engaging in his writing.
Israel is Real
is a richly historical and intensely personal study of a nation that's as much of a state of mind as a place on the map." —
The San Diego Union-Tribune
"Cohen is a masterful and slyly provocative writer who marches boldly into the most controversial issues posed by the existence of Israel. Blending historical narrative with contemporary reportage, Israel Is Real makes an argument that cannot be ignored. Along the way, Cohen establishes himself as being among the most talented essayists of his generation."—Evan Wright, author of Generation Kill
"A fascinating big-picture account of Israel from its distant past to what happened last week. Rich Cohen tells this story central to mankind with skill, passion, common sense, and wit."—Ian Frazier, author of Great Plains
"Rich Cohen's passionate, engaged, thoroughly modern book is—dare I say—a revelation."—Jeffrey Toobin, author of The Nine: Inside the Secret World of the Supreme Court
"The best book I've ever read about Israel (that troubled state), and the last word on it: all the stories, all the figures, all the fires, all the battles, all the exiles, all the personalities, all the strikes, and all the gutters. Rich Cohen has delivered the full big thing, a monumental book, the best I've read and expect to read for a long time. As the priests in the old city would say, it has hava: it's full of life."—David Lipsky, author of Absolutely American: Four Years at West Point
"Nobody has yet written about our Middle East heartbreak with such range and lucidity. Rich Cohen has kept an account of the wanderings; he's kept a record of the tears. Israel Is Real is the definitive book on Israel."—Darin Strauss, author of Chang and Eng
"Rich Cohen's book creates a vibrant portrait that offers reasons Israel—surrounded by those who want to exterminate it—deserves to survive."—Ron Rosenbaum, author of Explaining Hitler
Advertisement