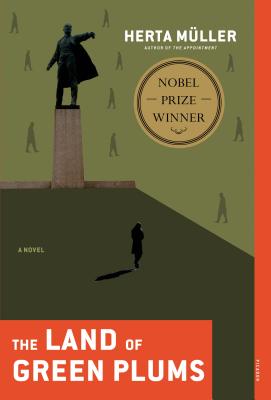 The Land of Green Plums (Paperback)
A Novel
Picador, 9780312429942, 272pp.
Publication Date: November 23, 2010
Other Editions of This Title:
Paperback (11/1/1998)
Hardcover (11/1/1996)
* Individual store prices may vary.
Description
Set in Romania at the height of Ceauescu's reign of terror, The Land of Green Plums tells the story of a group of young people who leave the impoverished province for the city in search of better prospects and camaraderie. But their hopes are ravaged, because the city, no less than the countryside, bears everywhere the mark of the dictatorship's corrosive touch. All the narrator's friends—teachers and students of vaguely dissident allegiance—betray her, do away with themselves, or both. As they do so, we see the way the totalitarian state comes to inhabit every human realm and how everyone, even the strongest, must either bend to the oppressors or resist them and thereby perish.
Herta Müller, herself a survivor of Ceausescu's police state, speaks from intimate experience. Scene by scene, in language at once harsh and poetic, she constructs a devastating picture of a society and a generation ruined by fear. In simple images of hieroglyphic power—policeman filling their pockets and mouths with green plums; girls sleeping with abattoir workers for bags of offal; a docile proletariat making things no one wants—"tin sheep and wooden watermelons"—Müller anatomizes a country and its citizens and the corruption that has rotted the core of both.
About the Author
Herta Müller
is the winner of the 2009 Nobel Prize in Literature, as well as the International IMPAC Dublin Literary Award and the European Literature Prize. She is the author of, among other books,
The Hunger Angel
and
The Land of Green Plums
. Born in Romania in 1953, Müller lost her job as a teacher and suffered repeated threats after refusing to cooperate with Ceausescu's secret police. She succeeded in emigrating in 1987 and now lives in Berlin.
Michael Hofmann is a poet and frequent contributor to The New York Times Book Review, and is widely regarded as one of the world's foremost translators of works from German to English. He lives in London.
Praise For The Land of Green Plums: A Novel…
"Unflinching. . . Ms. Müller's vision of a police state manned by plum thieves reads like a kind of fairy tale on the mingled evils of gluttony, stupidity and brutality." —The New York Times Book Review
"Müller has triumphed in her honesty, and The Land of Green Plums is her testimony. . . .Describes in precisely hewn detail what is was like to live in Romania under communism." —The Washington Post
"Ms. Müller's rich, harsh, obsessive imagery captures the surreal beauty and the difficulty of Ceausescu-era Romania." —The Boston Book Review
"This heartbreaking tale is bitter and dark, yet beautiful. . . Stark and telling." —San Diego Union-Tribune
"The Land of Green Plums works hauntingly, disturbingly well." —The Guardian (UK)
"Impressive, wholly authentic. . . a bleak fable with the flickering intensity of a nightmare." —International Herald Tribune
"This is a novel of strong, spare poetry in translation. Again and again, its speech startles. Then it quickly sounds just right, and it becomes hard to imagine there might not have been a Herta Müller to transcribe these urgent whispers." —The Australian
"By paying careful attention to the slightest nuances of life in Romania the book gives an accurate description of what it was like to be alive anywhere in Eastern Europe during the years of communism. . . Müller has triumphed in her honesty and The Land of Green Plums is her testimony." —The Washington Times