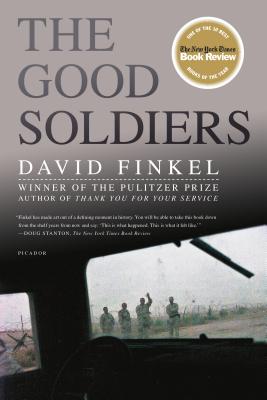 The Good Soldiers (Paperback)
Picador, 9780312430023, 336pp.
Publication Date: August 3, 2010
Other Editions of This Title:
Prebound (8/3/2010)
Hardcover (9/15/2009)
MP3 CD (12/1/2016)
Compact Disc (11/1/2011)
MP3 CD (11/1/2011)
Paperback (3/1/2011)
Compact Disc (3/1/2010)
Compact Disc (3/26/2010)
MP3 CD (3/1/2010)
MP3 CD (3/26/2010)
Pre-Recorded Audio Player (8/1/2013)
Compact Disc (10/1/2013)
* Individual store prices may vary.
Description
The Prequel to the Bestselling Thank You for Your Service, Now a Major Motion Picture
With The Good Soldiers, Pulitzer Prize-winning reporter David Finkel has produced an eternal story — not just of the Iraq War, but of all wars, for all time.
It was the last-chance moment of the war. In January 2007, President George W. Bush announced a new strategy for Iraq. It became known as "the surge." Among those called to carry it out were the young, optimistic army infantry soldiers of the 2-16, the battalion nicknamed the Rangers. About to head to a vicious area of Baghdad, they decided the difference would be them.
Fifteen months later, the soldiers returned home — forever changed. The chronicle of their tour is gripping, devastating, and deeply illuminating for anyone with an interest in human conflict.
A BEST BOOK OF THE YEAR FOR:
THE NEW YORK TIMES
CHICAGO TRIBUNE
SLATE.COM
THE BOSTON GLOBE
THE KANSAS CITY STAR
THE PLAIN DEALER (CLEVELAND)
THE CHRISTIAN SCIENCE MONITOR
WINNER OF THE HELEN BERNSTEIN BOOK AWARD FOR EXCELLENCE IN JOURNALISM
About the Author
David Finkel is the author of The Good Soldiers, listed a best book of 2009 by the New York Times, Chicago Tribune, Slate.com, and The Boston Globe, and winner of the Helen Bernstein Book Award for Excellence in Journalism. He is a staff writer for The Washington Post, and is also the leader of the Post's national reporting team. He won the Pulitzer Prize for explanatory reporting in 2006 for a series of stories about U.S.-funded democracy efforts in Yemen, and the MacArthur "Genius" Grant in 2012. Finkel lives in Silver Spring, Maryland, with his wife and two daughters.
Praise For The Good Soldiers…
"Finkel has made art out of a defining moment in history. You will be able to take this book down from the shelf years from now and say: 'This is what happened. This is what it felt like.'" —Doug Stanton, The New York Times Book Review
"Let me be direct. The Good Soldiers by David Finkel is the most honest, most painful, and most brilliantly rendered account of modern war I've ever read. I got no exercise at all the day I gulped down its 284 riveting pages." —Daniel Okrent, Fortune
"Over and over, I cried. I endured nightmares. I have read hundreds of books about war and almost two dozen books about the U.S. invasions of Afghanistan and Iraq. Most of them affected me. But none has affected me as deeply as The Good Soldiers." —Steve Weinberg, The Kansas City Star
"Heart-stopping . . . captures the surreal horror of war." —Michiko Kakutani, The New York Times
"A whole generation of these men will (God willing) be coming home, and The Good Soldiers is as good a guide as I can imagine to who they'll be when they get here." —Devin Friedman, GQ
"[A] new classic . . . the reader cannot get enough . . . As a compelling read, The Good Soldiers is all good." —J. Ford Huffman, Military Times
"David Finkel has written the most unforgettable book of the Iraq War, a masterpiece that will far outlast the fighting." —David Maraniss, author of They Marched into Sunlight
"From a Pulitzer Prize-winning writer at the height of his powers comes an incandescent and profoundly moving book: powerful, intense, enraging. This may be the best book on war since the Iliad." —Geraldine Brooks, author of People of the Book and March
"This is the best account I have read of the life of one unit in the Iraq War. It is closely observed, carefully recorded, and beautifully written. David Finkel doesn't just take you into the lives of our soldiers, he takes you deep into their nightmares." —Thomas E. Ricks, author of Fiasco and The Gamble
"Brilliant, heartbreaking, deeply true. The Good Soldiers offers the most intimate view of life and death in a twenty-first-century combat unit I have ever read. Unsparing, unflinching, and, at times, unbearable." —Rick Atkinson, author of An Army at Dawn and The Day of Battle
"This is the finest book yet written on the platoon-level combat of the Iraq war . . . Unforgettable--raw, moving, and rendered with literary control . . . No one who reads this book will soon forget its imagery, words, or characters." —Steve Coll, author of Ghost Wars
"Vivid and moving . . .Finkel's keen firsthand reportage, its grit and impact only heightened by the literary polish of his prose, gives us one of the best accounts yet of the American experience in Iraq." —Publishers Weekly, starred review
"A superb account of the burdens soldiers bear." —Kirkus Reviews, starred review