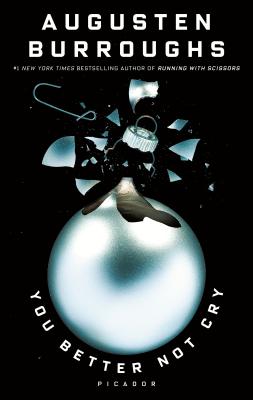 You Better Not Cry (Paperback)
Stories for Christmas
Picador, 9780312430061, 224pp.
Publication Date: September 28, 2010
* Individual store prices may vary.
Description
A NEW YORK TIMES BESTSELLER about Christmases past and present from the #1 bestselling author of Running with Scissors, Dry, and A Wolf at the Table
At eight years old, Augusten Burroughs profoundly misunderstood the meaning of Christmas. Now proving himself once more "a master of making tragedy funny" (The Miami Herald), he shows how the holidays can bring out the worst in us and sometimes, just sometimes, the very best. From the author described in USA Today as "one of the most compelling and screamingly funny voices of the new century" comes a book about surviving the holiday we love to hate, and hate to love.
About the Author
Augusten Burroughs is the author of Running with Scissors, Dry, Magical Thinking: True Stories, Possible Side Effects, A Wolf at the Table and You Better Not Cry. He is also the author of the novel Sellevision, which is currently in development for film. The film version of Running with Scissors, directed by Ryan Murphy and produced by Brad Pitt, was released in October 2006 and starred Joseph Cross, Brian Cox, Annette Bening (nominated for a Golden Globe for her role), Alec Baldwin and Evan Rachel Wood. Augusten's writing has appeared in numerous magazines and newspapers around the world including The New York Times and New York Magazine. In 2005 Entertainment Weekly named him one of "The 25 Funniest People in America." He resides in New York City and Western Massachusetts.
Praise For You Better Not Cry: Stories for Christmas…
"In his trademark wit and self-deprecating humor . . . Burroughs compiles his favorite Christmas memories. From gnawing the face off of a life-size wax Santa to waking up beside a naked real-life Saint Nick at the Waldorf Astoria, Burroughs spares no details describing why Christmas has always been his favorite holiday." —Vanity Fair
"For those who like their holiday spirit with gallons of vodka and a heaping portion of irreverence, You Better Not Cry is at times a laugh-out-loud read. . . . Burroughs is as frank and revealing as ever. . . . Fans won't be disappointed." —San Francisco Chronicle
"Burroughs succeeds best at evoking true holiday spirit, reminding us that whatever's left after the bulbs stop twinkling, the cookies are all eaten, and the trees lose their tinsel is what's most important." —Elle
"Terribly funny, in his tragically honest style . . . You may not cry, but you'll definitely laugh." —The Miami Herald