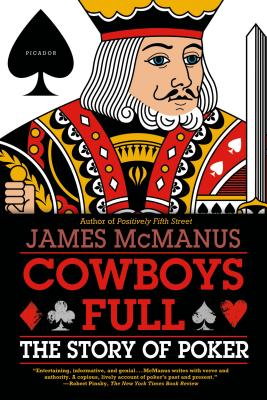 Cowboys Full
The Story of Poker
Paperback

* Individual store prices may vary.
Other Editions of This Title:
Digital Audiobook (11/9/2009)
Hardcover (11/10/2009)
Compact Disc, Abridged, Abridged (11/10/2009)
Description
A NEW YORK TIMES BOOK REVIEW EDITORS' CHOICE
Cowboys Full traces the story of poker from its roots in China, the Middle East, and Europe, through the back rooms of saloons and the parlors of U.S. presidents to its evolution as a global phenomenon. It describes how early Americans took a French parlor game and turned it into a national craze by the time of the Civil War. It explains how poker, once dominated by cardsharps, is now the most popular card game in Europe, East Asia, Australia, South America, and cyberspace, as well as on television. Along the way, James McManus examines the game's remarkable hold on American culture, seen in everything from Frederic Remington's paintings to countless poker novels, movies, and plays. Cowboys Full is raucous and fascinating, a lively, definitive history of the game that, more than any other, explains who we are and how we operate.
Praise For Cowboys Full: The Story of Poker…
"The story of poker is that of risk-loving America and, recently, the rest of the world. Here is that crazy ride in unparalleled detail, driven by wit, wisdom, true love, and sizzling style. As analyst, historian, devotee, and no mean player, James McManus is poker's most eloquent advocate." —Anthony Holden, author of Big Deal, Bigger Deal and Holden on Hold'em
"Mr. McManus writes about our American love of poker like James A. Michener describing the Plains Indians' discovery of the buffalo: 'Wait a second . . . I can eat it, wear it, make it into a drum . . . There's nothing I can't do with this sonofabitch.' I would throw in 'A joy for poker players and non-players alike,' but, of the second group, who cares what they read--and I don't think there are enough of them to affect Mr. McManus's royalties." —David Mamet
"Poker now has what must surely be its definitive history in this excellent, comprehensive account of the game from the author of the widely hailed poker memoir Positively Fifth Street. In tracing the game from its early 19th-century roots in New Orleans to today's global phenomenon, McManus does more than present a history of poker: 'My goal is to show how the story of poker helps to explain who we are.' The 'national card game,' he asserts, embodies essential American qualities. It's an ambitious objective, but the book achieves it by connecting the game to American culture. Poker, it turns out, is inextricably linked with history, from the Civil War to the cold war, and with politics . . . The book also outlines the re-emergence of poker in recent years as a pastime for many millions and, for a select few, a reasonably legitimate profession." —Publishers Weekly (starred review)
"Before the burst of a million online geniuses, James McManus was already writing the best material on poker, and Cowboys Full proves that nothing's changed. A must-read!" —Antonio Esfandiari, professional poker player
"McManus writes with verve and knowledge. . . . Entertaining, informative and genial . . . a copious, lively account of poker's past and present." —Robert Pinsky, The New York Times Book Review
"A captivating history of [poker] from a writer who happens to be one of its best players." —John McMurtrie, San Francisco Chronicle
"If there were a World Series of Poker Writing, then James McManus just won the main event. It's not only that McManus delivers the definitive history of the game with Cowboys Full: The Story of Poker, it's that he's so entertaining doing it that even non-pokeristas will get swept along for the ride." —Rathe Miller, Philadelphia Inquirer
"In his colossal new history of the game, 'Cowboys Full,' journalist James McManus casts the old-fashioned game in a whole new light with insightful, mesmerizing tales about its origins, the bizarre cast of historical figures, underworld creatures and celebrity players who have played it, and its lasting influence on politics, warfare and other national spectacles." —Clayton Moore, Denver Post
"Go all-in on this one. . . Cowboys Full is loaded with colorful stories and even more colorful characters, not all of whom played by the rules." —Paste
"McManus has a writer's eye for anecdotes and details that bring the material to life. The book covers a lot of ground, but thanks to McManus' particular blend of skills, it does so with insight, clarity and credibility." —Jack Broom, Seattle Times
"The book is sensational. McManus is a writer of immense talent, deft with language and with an ear that seems to catch all the right conversations. And he has a cast of characters that would be the envy of the most imaginative novelist." —Rick Kogan, Chicago Tribune
"Cowboys Full is a deal-me-in delight. Starting with a sweeping survey of the history of the game and its role in American culture, McManus ends with a smart, insiders' analysis of how poker has been--and should be--played . . . Stuffed with anecdotes. . . . Beyond its importance as a model and metaphor for American culture, society, and politics, Cowboys Full demonstrates, poker is fascinating in its own right." —Glenn C. Altschuler, Boston Globe
"A comprehensive history . . . McManus ties poker tightly to American life--the presidents who used their regular game to unwind, network, or test a man's mettle range from Honest Abe to Barack Obama--and clearly relishes retelling tales of legendary contests . . . He also discusses how televised tournaments and Internet gaming continue to change the face of poker [and] spins a lot of meticulous research into a fast-paced, entertaining history." —Kathie Bergquist, Chicago Reader
"McManus has done a tremendous job. [He] is uniquely qualified to tell this tale . . . A lot of research clearly went into the book, but it reads effortlessly, as if the author is spinning versions of oft-told yarns from memory. It weaves in and out of luxury mansions, backrooms of saloons, kitchen tables in middle-class suburbs and modern tournaments without missing a beat . . . It is a story of high mathematics and low-down dirty deeds, of proud men humbled and humble men grown rich, of a simple game you can learn in an hour, but not master in a lifetime." —Aaron Brown, Poker Pro
"The most exhaustive and definitive account of the history of poker . . . McManus is an excellent stylist and storyteller, so the book is unfailingly entertaining. . . Read Cowboys Full to understand how this golden age came about--and to grasp that poker does have a meaning beyond the felt." —Tim Peters, Card Player
"A witty and insightful book masterfully blending history, politics and strategy to produce an excellent definitive historical guide to the 'national card game.'" —Online Poker News
"Takes the reader on a journey through poker history, and helps him appreciate how we have arrived at where we are . . . Fascinating reading." —LaunchPoker
"Offers up a colorful history of the game--and comes up aces." —Hemispheres
"A poet and novelist, McManus revels in the language of the game . . . whose long, colorful history in the U.S. comes to life through [his] research and narrative wit. McManus knows the green-felt world, having entered the World Series of Poker in 2000 while researching a magazine article. He finished fifth and produced a classic book in Positively Fifth Street. . . With its detailed history and 87 pages of notes, glossary and index, Cowboys Full manages to be authoritative and entertaining. The book closes with a look at the global explosion of Internet poker, the electronic fraud that quickly emerged with it and the U.S. legislative efforts to ban or rein in Web gambling--efforts that McManus convincingly portrays as uncommonly wrongheaded even by Washington standards." —Jeffrey Burke, Bloomberg News
"A book that describes, as well as any work ever written on the subject, how the game has evolved from being a cheating game to a legitimate enterprise over the course of the last 200 years. [McManus is] a first-rate storyteller. His study of the way poker-inflected game theory has influenced the thinking of some of our greatest military minds, especially those who guided us through the Cold War, is particularly fascinating . . . Aficionados will have a much better understanding of [poker's] past thanks to Cowboys Full. McManus's book promises to be the definitive work on the subject for years to come." —Storms Reback, All-In
"Passion is enlivening, and authors who have it draw us in. We want it because without it we would be angels, and no one, really, wants that. James McManus is passionate about poker, not a game for angels but one once associated with sin and played in murky rooms by rough men. [His] Cowboys Full is 516 pages of all things poker: history, trivia, strategy, analysis. It's a compendium, an omnium-gatherum, an anecdotal encyclopedia of poker. [He] shows its influence on every American war, the building of the great cities, the settlement of the West, politics and the election of presidents. [It] teaches us like no other game can how to survive in life, maybe even win more than we lose." —Tom Dodge, Dallas Morning News
"The epic story of how poker has grown from disreputable roots to become America's—and the world's—game. Poker journalist McManus follows up his bestselling memoir Positively Fifth Street (2003) with a comprehensively structured history of the game. He argues that the complexities of poker lend a uniquely intricate American metaphor for many aspects of society, from the codes of the antebellum South to the frontiers of Artificial Intelligence. Fittingly, he begins by observing that the leader of the free world prides himself on being "a pretty good poker player." In fact, President Obama is the latest in a long line of presidents who "have used the card game to relax with friends, extend their network of colleagues, or even deploy its tactics and psychology in their role as commander in chief." This line of discussion is typical of McManus's arguments for poker's metaphorical or talismanic status in society—essentially, that a majority of powerful, driven people have incorporated it into their lives. The author first explains how the game gradually evolved—often covertly—in multiple cultures over hundreds of years. It was first known as poque and "pokuh," and came into its own on the Mississippi steamboats of the early 19th century, among soldiers in the Civil War and on Western ranches. McManus also highlights some fascinating classic cheating methods, surely for entertainment purposes only—especially since these techniques would require more skill to pull off than honest play. The game's outlaw status began to fade around the turn of the 20th century (Theodore Roosevelt was one high-profile fan), the author writes, and he alternates discussions of cultural phenomena in which poker plays a part with explorations of how the game became less crooked and more streamlined and difficult. This resulted in the development of the now-famous World Series of Poker. These suspenseful chapters on contemporary poker play—McManus asserts mathematical professionalism has replaced the "sharps" of old—may be difficult for neophytes to follow, but the author provides a helpful glossary.
A satisfying, useful overview—given poker's popularity, this is sure to be a prominent book this holiday season." —Kirkus Reviews
"A satisfying, useful overview--given poker's popularity, this is sure to be a prominent book this holiday season." —Kirkus Reviews
Picador, 9780312430085, 608pp.
Publication Date: September 28, 2010
About the Author
James McManus is a novelist and poet, most recently winner of the Peter Lisagor Award for sports journalism. He teaches writing and comparative literature at the School of the Art Institute of Chicago, including a course on the literature and science of poker. He is the author of Positively Fifth Street.