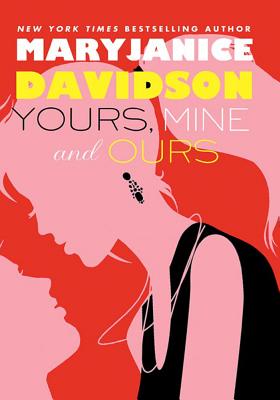 Yours, Mine, and Ours (Hardcover)
St. Martin's Press, 9780312531188, 334pp.
Publication Date: February 28, 2012
Description
"From" New York Times" bestselling author MaryJanice Davidson comes "Yours, Mine, and Ours," the next hilarious installment in her laugh-out-loud trilogy featuring an unconventional FBI agent who finds love in the most unexpected places"
""
It's Christmas season, a holiday Cadence adores. Her relationship with Patrick has been progressing nicely, and they are beginning to wonder if it might be time to bring things to the next level...unprecedented in Cadence's life. That is until she meets the completely dreamy Dr. Max Gallo and he throws Cadence and her sisters for a tailspin.
And if the threat of Dr. McDreamy weren't enough there is a new BOFFO employee, Emma Jan Thyme, whose reputation precedes her. She has a doctorate from Harvard, speaks seven languages, and is a remarkable actress. But she's harboring a secret of her own.
In addition to adjusting to a new co-worker's foibles, shopping for her Secret Santa, and trying to find the perfect Christmas gift for Patrick, a new serial killer appears to have blown into town. For four Junes in a row perfectly ordinary fourteen year olds have disappeared. The only things the victims have in common are their ordinariness...and it's up to Cadence to figure out the case before another innocent teen dies.
About the Author
MaryJanice Davidson has been credited with starting paranormal chick lit. She is the author of the Undead series and Me, Myself and Why? Her books have been listed on the New York Times and USA Today bestseller lists, and she lists her goals as "Working for world peace, figuring out how to make potstickers, and speaking at writer and reader conferences around the world." She lives in Minnesota.
Praise For Yours, Mine, and Ours…
"Awesomely original, fast paced and fun, with characters you'll never forget!"
—Lori Foster, #1 New York Times bestselling author on Me, Myself, and Why?
 "One of the most unique and engaging stories to comealong this year." —RT Book Reviews on Me, Myself, and Why? "The second in Davidson's unique trilogy featuring an FBI agent with multiple personalities is a real page-turner. The story flows with relative ease and readers new to the series will have little trouble getting up to speed. The three personalities, or sisters, are clearly distinct. This book doesn't take itself too seriously, except when it comes to solving crime. It's absolutely witty and smart." --RT Book Reviews on Yours, Mine and Ours
Advertisement