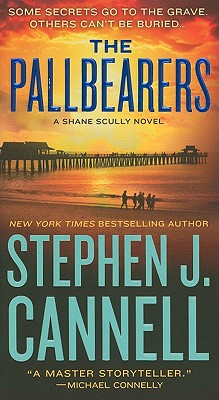 The Pallbearers (Mass Market Paperback)
St. Martin's Paperbacks, 9780312532451, 400pp.
Publication Date: September 28, 2010
* Individual store prices may vary.
or
Not Currently Available for Direct Purchase
Description
"From perennial "New York Times "bestseller Stephen J. Cannell comes" The Pallbearers," a powerful novel in which Detective Shane Scully, who grew up as an orphan, must revisit his painful childhood to find out who murdered the kind and charismatic man who became a father to him"

Pop is found dead, the victim of an apparent self-inflicted shotgun blast. He left a note naming six Huntington grads as his pallbearers. Shane is one of the chosen but he doesn't believe Pop's death was a suicide. Now, along with the others, Shane embarks on a dangerous mission to unearth Pop's real killer. But the group discovers an unexpected adversary whose power and influence far exceed anything they could have imagined violent, dangerous men who are determined to keep the truth about Pop's death under wraps no matter who gets in their way.
About the Author
Stephen J. Cannell (1941-2010) was the author of the bestselling Shane Scully books, including "The Prostitute's Ball" and "Three Shirt Deal." He was also an Emmy Award winning television writer and producer, and in his thirty-five-year-career, he created or co-created more than forty TV series. Among his hits were "The Rockford Files, Silk Stalkings, The A-Team, 21 Jump Street, Hunter, Renegade, Wiseguy," and "The Commish." He received numerous awards, including the Saturn Award - Life Career Award (2004), The Marlow Lifetime Achievement Award from Mystery Writers of America (2005), and the WGA Paddy Chayefsky Laurel Award for Television Writing Achievement (2006). Having overcome severe dyslexia, Cannell was an avid spokesperson on the condition and an advocate for children and adults with learning disabilities. He was a third-generation Californian and resided in the Pasadena area with his wife, Marcia, and their children.
Praise For The Pallbearers…
"THE PALLBEARERS grabbed me within its first few pages.... It takes a superior talent to do this, and Cannell, creator of some of television's best-loved series of the late 20th century, is up to the challenge.... THE PALLBEARERS is not to be missed."
--Bookreporter.com
ON THE GRIND
"Cover to cover, [On the Grind] never lets you up for air. Read it!"—Michael Connelly, bestselling author of The Brass Verdict
"A hard-boiled cop and really scuzzy bad guys... Cannell is the gold in crime fiction." —Stephen Coonts, bestselling author of The Assassin
THREE SHIRT DEAL
 "Cannell's brand of thriller is served straight-up…and he knows how to cut to the chase."
—The New York Times
"The white-knuckle climax is one of the most exciting ever."—BookReporter.com
WHITE SISTER
"A very satisfying thriller written by a born entertainer."—New York Post
"A strong piece of fiction that leads readers…through the harrowing underbelly of L.A. "—Daily News
"A terrific read."—New York Sun
"Cannell dishes out the action in forklift-sized servings."—Publishers Weekly
COLD HIT
"As the case spirals outward from local crime to international espionage dating back to the 1980s, the action rarely lets up. When it does, we're reintroduced to the back story that is one of the pleasures of reading the Scully series."—Los Angeles Times
"The action rarely lets up."
—The Chicago Tribune
"A thriller, a procedural, and an indictment of the Patriot Act in the wrong hands. Scully, the plots, and the characters get better with each book."—The Sunday Oklahoman
"If you are hungry for a great police procedural, look no further. Cannell knows what he's doing…this mystery works on every level."—Tulsa World
"An intriguing, torn-from-today's-headlines premise on his fifth Shane Scully outing."—News Press (Fort Myers, FL)
VERTICAL COFFIN
"Readers will enjoy watching [Scully] puzzle out the twists and turns of the plot and watch breathlessly as he undertakes a climactic high-speed chase."—Publishers Weekly
"Cannell certainly knows how to tell a story…You'll probably read the entire book with a smile on your face." —Cleveland Plain Dealer
HOLLYWOOD TOUGH
"Cannell, creator of such TV shows as The A-Team, clearly knows the ins and outs of the entertainment industry, and the detective story, with its wry, subtle humor, doubles as Hollywood satire…the cops-and-robbers sequences hit the mark as well. Well-drawn characters and keen observations on the similarities between Hollywood and the mafia make this a winner." —Publishers Weekly
"Scully has ample opportunity to prove how "Hollywood tough" he is...veteran writer/TV producer Cannell has concocted his special brand of reader candy." —Kirkus Reviews
RUNAWAY HEART"A cop thriller with a futuristic, sci-fi twist…Cannell has a genius for creating memorable characters and quirky, gripping plots…this is a fun read."—Publishers Weekly  THE VIKING FUNERAL
"Stephen J. Cannell is an accomplished novelist." —New York Daily News
"Stephen J. Cannell's The Viking Funeral is the sort of fast and furious read you might expect from one of television's most successful and inventive writer-producers."—Los Angeles Times
"Solid plotting with nail-biting suspense and multiple surprises keep the reader guessing and sweating right up to the cinematic ending...Cannell has a knack for characterization and a bent for drama that will satisfy even the most jaded thrill lover."—Publishers Weekly
THE TIN COLLECTORS
"I've been a Stephen Cannell fan since his remarkable King Con, and he keeps getting better. The Tin Collectors is an LAPD story that possesses both heart and soul; a fresh and different look at the men and women who, even more than the NYPD, are the most media covered police force in the world. Stephen Cannell has the screenwriter's fine ear for dialogue and great sense of timing and pacing as well as the novelist's gift of substance and subtlety. Cannell likes to write, and it shows."—Nelson DeMille
"Cannell turns out another winding, suspenseful thriller."—New York Daily News
"Readers who enjoy cop novels by Robert Daley or William Caunitz will find Cannell right up their dark, dangerous alley."—Booklist
"Cannell has created a reputation for top-rate suspense in four novels…his latest,  The Tin Collectors, is his best…Cannell…knows how to tell a good story."—Wisconsin State Journal
"Cannell conjures up images of McBain, Wambaugh, and Heller; only tougher, grittier, more underhanded, with plenty of street-smart savvy, and a frightening and wholly believable plot and characters…crackles with high energy and suspense…Cannell is in top form."—Charleston Post & Courier
"Compelling, frightening, and…very moving. Don't miss it. Cannell is a first rate storyteller and The Tin Collectors never stops."—Janet Evanovich
"Stephen Cannell has a chilling thought: What if the guys who police the police went bad? As in crooked? Then what? Then chaos, a message that comes through with decibels to spare in The Tin Collectors. This is classic Cannel: fast, full of action."—The Cincinnati Enquirer
"In Shane Scully, Cannell brings the reader a dynamic new hero with promise of new adventures in the field of law and order."—Abilene-Reporter News
"A sure winner…Cannell keeps the tension and pace at high levels."—St. Paul Star Tribune
"Cannell is a great storyteller…a fresh and edgy story."—Buffalo News
"Exciting…a fast-action tale that continues to build up momentum until the story line exceeds the speed of light."—The Midwest Book Review
"Cannell's…best novel…begins with a bang and closes with one…a fast-paced well-told story."—The Osceola Magnifier
Advertisement