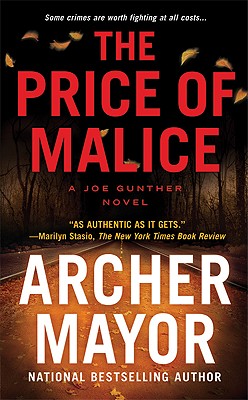 The Price of Malice (Mass Market Paperbound)
St. Martin's Press, 9780312532468, 315pp.
Publication Date: September 28, 2010
* Individual store prices may vary.
Description
Joe Gunther's Vermont Bureau of Investigation team is plenty busy trying to solve the grisly murder of Wayne Castine, a suspected child predator who's got mob ties in the area. But Gunther has other pressing, more personal business to attend to: the old case of his girlfriend Lyn Silva's father and brother. Fishermen both, they were once believed to be lost at sea. Until today
With the Castine investigation in full swing, now is hardly the time for Gunther to go AWOL and join Lyn in Maine. But as more evidence emerges, the less it seems that the Silvas were innocent victims. Turns out they had some involvement with a gang of vicious smugglers--men who will do whatever it takes to keep Lyn and Gunther from finding the truth and who will kill to keep old secrets buried.
About the Author
Archer Mayor, in addition to being a novelist, is also a death investigator for Vermont's Chief Medical Examiner, a deputy for the Windham County Sheriff's Department, and has served twenty-five years experience as a volunteer firefighter and EMT. The winner of the NEIBA award for Best Fiction, he lives in Newfane, Vermont.
Praise For The Price of Malice…
"The Joe Gunther series is one of the best around…With its excellent noir touches, terrific plots, and really interesting central character, it ought to appear at the top of most lists."—Globe and Mail (Toronto) 
"Archer Mayor's Vermont police procedurals are the best thing going."—The New York Times Book Review
"Mayor still shows why he is one of the most respected American writers or procedurals."—Library Journal
"As always, Mayor delivers rich characters, solid police procedural details, and a rich sense of place. A solid addition to a fine series."—Booklist
The Catch
"The Catch [is] as authentic as it gets."—The New York Times Book Review
"Superior…will leave fans feeling fully satisfied."—Publishers Weekly
"Mayor's skills are equal to the vigor of his imagination, and we take his word for every twist, every turn, every thunderbolt."—New Yorker
"Elegant, even lyrical prose...a new Joe Gunther is always good news."—Booklist 
"Suspenseful...Mayor's New England eye mercilessly details what he sees without the 'calendar nostalgia' that usually clings to such villages and backwaters...The clever plot expands like a dark whirlpool and reveals the underbelly of Vermont and Maine."—Providence Journal-Bulletin
"As with all Mayor's novels, the plot remains fresh and timely. Through his in-depth knowledge of police work, forensics and the medical field, combined with his ability to evoke the Vermont landscape, Mayor deftly brings the reader deep inside the story, taking us along the trail of meticulous detective work needed to bring out the truth."—Brattleboro Reformer
…and for Archer Mayor and his other Joe Gunther novels
"Mayor is a devil of a plotter." —Marilyn Stasio, The New York Times Book Review
"Superb…Mayor spins out parallel story lines and weaves the strands together with deft precision."—Publishers Weekly (starred review) on The Second Mouse
"An intricate, first-rate thriller…a riveting plot and exceptional writing."—Publishers Weekly (starred review) on The Sniper's Wife

"The writing is strong, with sharp social observations throughout…Gunther grows on you from novel to novel."—Washington Post Book World
"Mayor keeps getting better with age…Few writers deliver such well-rounded novels of such consistently high quality."—Arizona Daily Star
"From first to last, [Mayor's] novels are page-turners, and each page resonates with the author's authority…His storytelling talents and his sheer craftsmanship combine to make his Joe Gunther books hard to put  down."—Tampa Tribune"Archer Mayor is one of today's most reliable—and most underappreciated—crime writers. His low-key police procedurals, which utilize their off-the-beaten-track setting to great advantage, are always entertaining, and his protagonist and iconoclastic supporting cast are unfailingly good company."—San Diego Union-Tribune
or
Not Currently Available for Direct Purchase