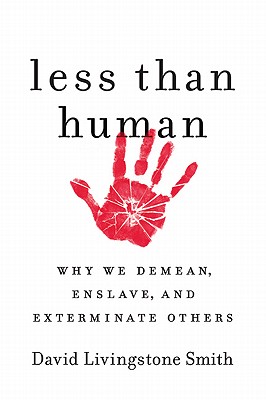 Less Than Human (Hardcover)
Why We Demean, Enslave, and Exterminate Others
St. Martin's Press, 9780312532727, 336pp.
Publication Date: March 1, 2011
Other Editions of This Title:
Paperback (2/28/2012)
* Individual store prices may vary.
Description
"Winner of the "2012 Anisfield-Wolf Book Award for Nonfiction
"A revelatory look at why we dehumanize each other, with stunning examples from world history as well as today's headlines "
""
"""Brute." "Cockroach." "Lice." "Vermin." "Dog." "Beast." These and other monikers are constantly in use to refer to other humans for political, religious, ethnic, or sexist reasons. Human beings have a tendency to regard members of their own kind as less than human. This tendency has made atrocities like the Holocaust, the genocide in Rwanda, and the slave trade possible, and yet we still find it in phenomena such as xenophobia, homophobia, military propaganda, and racism. "Less Than Human "draws on a rich mix of history, psychology, biology, anthropology and philosophy to document the pervasiveness of dehumanization, describe its forms, and explain why we so often resort to it.
David Livingstone Smith posits that this behavior is rooted in human nature, but gives us hope in also stating that biological traits are malleable, showing us that change is possible. "Less Than Human "is a chilling indictment of our nature, and is as timely as it is relevant.
About the Author
Dr. David Livingstone Smith is the author of "Why We Lie" and "The Most Dangerous Animal." He is professor of philosophy and cofounder and director of the Institute for Cognitive Science and Evolutionary Studies at the University of New England. He and his wife live in Portland, Maine.
Praise For Less Than Human: Why We Demean, Enslave, and Exterminate Others…
"Smith's compelling study and his argument that the study of dehumanization be made a global priority to prevent future Rwandas or Hiroshimas is well-made and important." -- Publishers Weekly "Smith offers an impressively thorough survey of "dehumanization"." -- Barbara Ehrenreich, Los Angeles Review of Books
"Books like Smith's should be required reading for all with a social conscience, and his ideas ought to find their way into every school curriculum." – Valerie Curtis, Ph.D., Journal of Evolutionary Psychology
"In this powerful and original work—ranging widely and with impressive interdisciplinary scope over different epochs and cultures while remaining compellingly readable—David Livingstone Smith demonstrates that our practice of representing our fellow-humans as subhuman is both inhuman and all too human. He forces us to recognize that monstrous atrocities are routinely carried out not by monsters but, alas, by ourselves." -Charles W. Mills, Ph.D. author of The Racial Contract, John Evans Professor of Moral and Intellectual Philosophy
"David Livingstone Smith produces a clear and illuminating vision of why human beings are the way we are and how we got this way. The scholarship is broad, the insight is deep and the prose is compelling.  Less Than Human will change the way you think about things that matter profoundly. This is dazzling stuff."-- Steven E. Landsburg, Ph.D., author of The Big Questions
"Warning: This book will challenge you! Not that it's hard to understand -- in fact, it's wonderfully accessible -- but it raises some terrible realities. For this reason, it is all the more important that you read Less that Human. It is brilliantly written, carefully researched, and a wonderful and much-needed opportunity for us to explore what it might mean to be 'truly human'." -- David P. Barash, author of Payback: Why We Retaliate, Seek Revenge and Redirect Our Aggression
"This is a beautiful book on an ugly topic. David Livingstone Smith uses the newest research in cognitive science to address the problems of racism, genocide, and atrocity, presenting a provocative theory as to why we come to see others as less than human. There are deep and important ideas here, and this engaging book should be read by anyone interested in the worst aspects of human nature -- and how we can come to transcend them." -- Paul Bloom, author of How Pleasure Works: The New Science of Why We Like What We Like and professor of psychology, Yale University

"One part detective story, one part horror story, one part evolutionary philosophy, Less Than Human is actually a book about what it means to be human. As such, there are few of us who can afford to miss it."--Peter Swirski,Ph.D., author of American Utopia and Social Engineering in Literature, Social Thought, and Political History, Professor of American literature and culture at the Department of English, University of Missouri, and Research Fellow at the Helsinki Collegium for Advanced Studies
"Dehumanization is a thoroughly human behavior. It is a tool we have used for millennia to bolster our self-esteem, to justify slavery and exploitation, to get ourselves to kill and exterminate. Yet, despite its terrible significance, surprisingly little scholarly attention has been trained on the phenomenon -- on its origins, how it works, and how we might avoid its dreadful toll. Bringing enviably acute skills as a philosopher to bear on the subject, David Livingstone Smith draws on an impressive range of sources to argue that dehumanization emerges from the very core of our humanity, our ability to reflect upon our own thoughts. Writing in an engaging and accessible style, he uses an incisive logic to pare away the layers of his subject to reveal this troubling conclusion. This is an important book for anthropologists, who are interested in ethnocentrism, and for any human concerned about our capacity to harm one another."--Paul Roscoe, Ph.D., Professor of Anthropology, University of Maine.
Coverage from NPR
or
Not Currently Available for Direct Purchase