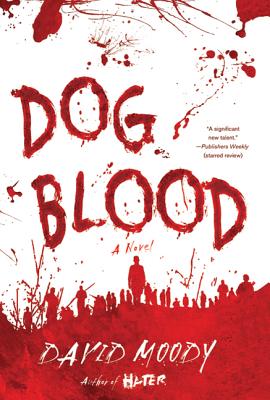 Dog Blood (Hardcover)
Thomas Dunne Books, 9780312532888, 326pp.
Publication Date: June 8, 2010
* Individual store prices may vary.
or
Not Currently Available for Direct Purchase
Description
On the heels of Patient Zero and Pride and Prejudice with Zombies the electrifying sequel to Hater where humanity fights itself to the death against a backdrop of ultimate apocalyptic destruction

The Earth has been torn into two parts by an irreversible division. Whether due to nature, or the unknown depths of the mind itself, everyone is now either Human or Hater. Victim or killer. Governments have fallen, command structures have collapsed, and relationships have crumbled. Major cities have become refugee camps where human survivors cower together in fear. Amidst this indiscriminate carnage, Danny McCoyne is on a mission to find his daughter Ellis, convinced that her shared Hater condition means her allegiance is to people like him. Free of inhibitions, unrestricted by memories of peace, and driven by instinct, children are pure Haters, and may well define the future of the Hater race. But, as McCoyne makes his way into the heart of human territory, an incident on the battlefield sets in place an unexpected chain of events, forcing him to question everything he believes he knows about the new order that has arisen, and the dynamic of the Hate itself.
About the Author
David Moody is the author of Hater, Autumn and Autumn: The City. He grew up in Birmingham, England, on a diet of horror movies and post-apocalyptic fiction. He started his career working at a bank, but then decided to write the kind of fiction he loved. His first novel, Straight to You, had what Moody calls "microscopic sales," and so when he wrote Autumn, he decided to publish it online. The book became a sensation and has been downloaded by half a million readers. He started his own publishing company, Infected Books. He lives in Britain with his wife and a houseful of daughters, which may explain his preoccupation with Armageddon.
Advertisement