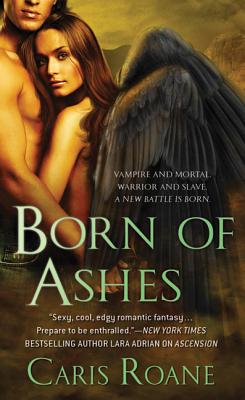 Born of Ashes (The Guardians of Ascension #4) (Mass Market)
St. Martin's Paperbacks, 9780312533748, 448pp.
Publication Date: January 3, 2012
* Individual store prices may vary.
Description
Enter a hidden world of winged vampire warriors—and the women they are sworn protect. Born of Ashes is the fourth breathtaking novel in paranormal romance author Caris Roane's Guardians of Ascension series…
For years, she was kept as a human slave—one of seven unwilling "blood donors" for the death vampires who thirst for absolute power. Now, Fiona is a free woman, haunted by her memories of being strapped to a gurney, drained of blood, then revived at the last moment. She lives to avenge her captors—but only one warrior can help her…
Jean-Pierre has lived and fought for over two-hundred years. He knows the triumph of slaying a death vampire, but has never known anything like the feelings that arise when he becomes Fiona's guardian. Her beauty, her pain, her passion—and her growing power—consume his senses. Now the warrior must draw his sword once more—and fight the gates of hell itself—for love.
About the Author
Caris Roane has authored over fifty published Regency romance novels and novellas under the name Valerie King.  In 2005, the Romantic Times honored her with a Career Achievement award for her Regency work. She lives in Phoenix with her two cats, one of which is named, Sebastian, after a favorite vampire. The "Guardians of Ascension" is her first paranormal romance series.
Praise For Born of Ashes (The Guardians of Ascension #4)…
"Roane's world building is complex and intriguing, and in addition to her compelling protagonists, she serves up a slew of secondary characters begging to be explored further. The Guardians of Ascension is a series with epic potential!" —Romantic Times (4 ½ stars) on the Guardians of Ascension series by Caris Raone
"A great story with a really different take on vampires. This is one book that is sure to be a hit with readers who love paranormals. Fans of J.R. Ward's Black Dagger Brotherhood series are sure to love this one too." —Red Roses for Authors Blog on the Guardians of Ascension series by Caris Raone
"Ascension is like wandering in a field of a creative and colorful dream. There are many interesting, formidable, terrifying, beautiful and unique images. They surround and envelop you in a story as old as time." —Barnes and Noble's Heart to Heart Romance Blog on the Guardians of Ascension series by Caris Raone
"A super urban romantic fantasy in which the audience will believe in the vampires and the world of Ascension…fast-paced…thrilling." —Alternative Worlds on the Guardians of Ascension series by Caris Raone
"Incredibly creative, Ascension takes readers to another level as you learn about two earths, vampires, ancient warriors, and a new twist on love. I felt like I was on a roller coaster ride, climbing until I hit the very top only to come crashing down at lightning speed. Once you pick this book up, clear off your calendar because you won't be able to put it down. Best book I have read all year." —SingleTitles.com on the Guardians of Ascension series by Caris Raone
"Tightly plotted and smoking hot…a fantastic read." —Fresh Fiction on the Guardians of Ascension series by Caris Raone
or
Not Currently Available for Direct Purchase