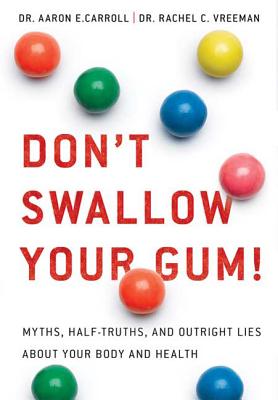 Don't Swallow Your Gum! (Paperback)
Myths, Half-Truths, and Outright Lies about Your Body and Health
St. Martins Press-3pl, 9780312533878, 221pp.
Publication Date: May 26, 2009
Description

People have more access to medical information than ever before, and yet we still believe "facts" about our bodies and health that are just plain wrong. DON'T SWALLOW YOUR GUM takes on these myths and misconceptions, and exposes the truth behind some of those weird and worrisome things we think about our bodies. Entries dispel the following myths and more:

- You need to drink 8 glasses of water a day
- Chewing gum stays in your stomach for seven years
- You can catch poison ivy from someone who has it
- If you drop food on the floor and pick it up within five seconds, it's safe to eat
- Strangers have poisoned kids' Halloween candy

With the perfect blend of authoritative research and a breezy, accessible tone, DON'T SWALLOW YOUR GUM is full of enlightening, practical, and quirky facts that will debunk some of the most perennial misconceptions we believe about our health and well-being.


About the Author
Dr. Aaron E. Carroll is an associate professor of Pediatrics and the director of the Center for Health Policy and Professionalism Research at the Indiana University School of Medicine.Dr. Rachel C. Vreeman is an assistant professor of Pediatrics in Children's Health Services Research at the Indiana University School of Medicine and co-director of Pediatric Research for the Academic Model for the Prevention and Treatment of HIV/AIDS (AMPATH).Aaron and Rachel's research has been featured in The New York Times, USA Today, The Los Angeles Times, Scientific American, Newsweek, and many other national publications. They have appeared on Good Morning America, CBS Evening News, and ABC News NOW.
Advertisement