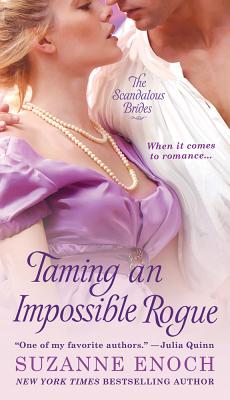 Taming an Impossible Rogue (Mass Market Paperbound)
St. Martin's Press, 9780312534523, 346pp.
Publication Date: March 27, 2012
* Individual store prices may vary.
or
Not Currently Available for Direct Purchase
Description
Taming an Impossible Rogue
Suzanne Enoch
One year ago, Lady Camille Pryce left her haughty fiance at the altar-for good reason. Not only was the marriage arranged before she could even walk, her betrothed was too smug to exert himself to meet her Now, disowned, with no husband or family to support her, she's left with one option: go to work in the notorious Tantalus Club...
A gentleman's gaming house run by a woman, the Tantalus is no place for a proper lady; so, to save face, her jilted fiance must retrieve her. But banned from the club, he's forced to employ his ne'er-do-well cousin instead. A handsome, experienced rogue, Keating Blackwood is the perfect man to lure Camille away. But the moment they meet, Keating instead wants to save her...for himself. Impossible? Perhaps. But if Camille can make the ultimate player lay his cards on the table-and risk his heart-all bets are off...
About the Author
A native and current resident of Southern California, Suzanne Enoch loves movies almost as much as she loves books, with a special place in her heart for anything Star Wars. She has written thirty Regency novels and historical romances, which are regularly found on the New York Times bestseller list. When she is not busily working on her next book, Suzanne likes to contemplate interesting phenomena, like how the three guppies in her aquarium became 161 guppies in five months.
Praise For Taming an Impossible Rogue…
"The Scandalous Brides are on a roll! Revisiting the Tantalus Club, Enoch ensures readers a fantastic, rollicking, emotional read. The pace never falters, and the sensuality fires up the pages as the deliviously naughty hero discovers the magic of being tamed by love. Enoch delivers what readers crave." --RT Book Reviews on Taming an Impossible Rogue (4 1/2 stars! Top Pick!) "With humor, grace, and superb insight, Enoch takes a pair of bold, refreshingly honest, vividly rendered protagonists with renegade tendacies, gives them a seemingly unresolvable conflict, and keeps the tension building until the end. The brilliantly atypical Tantalus Club backdrop puts a delightful, surprising spin on the classic runaway bride plot, while the wealth of intriguing characters will entertain fans and have them anxiously awaiting the next in the series."--Library Journal on Taming an Impossible Rogue
Advertisement