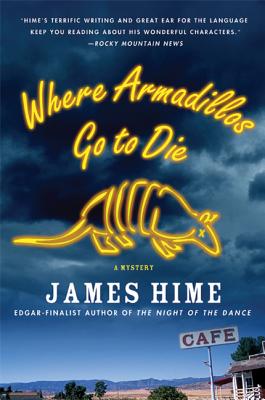 Where Armadillos Go to Die (Jeremiah Spur Mysteries #3)
Hardcover

* Individual store prices may vary.
Description
Sylvester Bradshaw owns the Bouree restaurant, home of the best catfish within a hundred miles of Brenham, Texas. Besides being known for his cooking and for being one of the town's nastiest residents, he also happens to have invented a machine that several venture capitalists and one former NFL star would like to invest in at almost any cost. But Bradshaw---stubborn and miserly---can't be enticed no matter what offer they put on the table. Nobody gets a look and nobody gets to know how the device works, not even his family.

When the restaurant is ransacked and he goes missing, the only person willing to take his disappearance seriously is Jeremiah Spur. The retired Texas Ranger and rancher is a dedicated customer, if not a friend, which makes him the only man on whom the Bradshaws can pin their hopes.

James Hime's Where Armadillos Go to Die eloquently captures the voice and spirit of a small Texas town with troubles every bit as big as the whole state, making for some of the most engaging crime fiction on bookshelves today.
Praise For Where Armadillos Go to Die (Jeremiah Spur Mysteries #3)…
"Jim Hime does for Texas what Pelecanos does for Washington, makes it live and breathe. Jeremiah Spur, retired Ranger, a part pitch-perfect for Tommy Lee Jones, slow-burns off the page till he literally blisters into your heart." —Ken Bruen, author of London Boulevard

"A small-town story of a too-big idea. A Texas tale of good green turned to greed. And a would-be American tragedy averted---thanks to Jeremiah Spur. It's a comfort to know James Hime is back---and that Spur is still on duty." —Theresa Schwegel, Edgar Award-winning author of Last Known Address

"Set a chair up in that wide spot in the road and put your feet up. You're about to enjoy the pitch-perfect magic of James Hime, that raconteur from the Birthplace of Texas where red-blooded, catfish-loving characters meet high-tech greed. Where Armadillos Go to Die, the third in the Jeremiah Spur series, is a shot of pure black coffee straight to the vein." —Louise Ure, Shamus Award--winning author of Liars Anonymous

"Beautiful writing, memorable characters, seamless dialogue, and a timely and original story, tough and gritty as a Texas landscape, Jim Hime writes with a careful touch, an original voice, and unexpected tenderness. A gem." —Hank Phillippi Ryan, Agatha-winning author of Air Time

"Rarely, we pick up a mystery where the setting is pleasingly unfamiliar, the plot is rewardingly intricate, the characters walk and talk as big as life, and where the whole book, line by line, is written, not typed or input or dictated. Such a book is James Hime's Where Armadillos Go to Die. You can't call Armadillos a romp because the whole damned thing reads like a victory lap around nearby Thunderhill Raceway." —Hershel Parker, author of Melville

"Grade: A. James Hime's novels are as Texas as a squashed armadillo by the side of the road, but lots more fun. His second, fast-paced whodunit . . . speaks with a twang and brings a sleepy place called Brenham to life." —Rocky Mountain News on Scared Money

"Hime sets 'em up and knocks 'em down with élan in this edgy thriller sophisticated enough to sprawl from the cafés of Vienna to the alleys of Brenham without skipping a beat." —Texas Monthly on Scared Money

"Colorfully written and marked by a compassionate knowledge of how small towns operate, Mr. Hime's debut novel is enjoyable and exciting." —The Dallas Morning News on The Night of the Dance

"Terrific---that's what this book is." —The Times-Picayune (New Orleans) on The Night of the Dance

"There's a new sheriff in town when it comes to Texas crime writing, and his name is James Hime." —Harlan Coben on The Night of the Dance
Minotaur Books, 9780312534868, 320pp.
Publication Date: November 24, 2009
About the Author
James Hime's electrifying debut, The Night of the Dance, was a finalist for the Edgar Award for best first novel. He is also the author of Scared Money and Where Armadillos Go to Die. Born in Arkansas, he lives in Dallas, Texas, with his wife and their golden retriever.