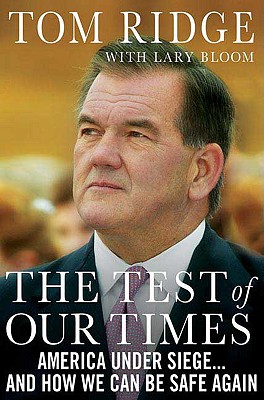 The Test of Our Times
America Under Siege...And How We Can Be Safe Again
Hardcover

* Individual store prices may vary.
Other Editions of This Title:
Paperback (8/31/2010)
Description
When our nation called, Tom Ridge answered. Appointed by the President to head up domestic security, Ridge established the Department of Homeland Security. In this probing and surefooted memoir, Ridge takes us through the challenges he and his new department faced, including Anthrax scares and reports (both real and false alarms) of new Al-Qaeda operations sprouting up in the United States. A "law and order" Republican who was on the shortlist to be John McCain's running mate in 2008, Ridge writes with refreshing candor on both the successes and missteps of the DHS. He details the obstacles faced in his new post—often within the administration itself—as well as the failures of Congress to provide for critical homeland security needs, and the irresponsible use of terrorism by both parties to curry favors with voters. Ridge also reveals: • How the DHS was pressured to connect homeland security to the international "war on terror" • How Ridge effectively thwarted a plan to raise the national security alert just before the 2004 Election• How Ridge had pushed for a plan (defeated because of turf wars) to integrate DHS and FEMA disaster management in New Orleans and other areas before Hurricane Katrina Finally, Ridge offers a prescriptive look to the future, advocating ways that America may reaffirm its safety—including his provocative support for a national ID card program and for comprehensive immigration reform—without sacrificing personal liberty. Television captures every word and every expression. I was reasonable to think that our enemies would look for any sign of weakness in the person who in a few days would be responsible for protecting America against them. At that moment, I experienced a royal flush of emotion—after all, I was leaving the state I loved, a loyal staff, many friendships developed over a lifetime, the frustration of work unfinished, to head into the unknown and the undoable. In normal times, I might have shed a tear at such thoughts. But I was determined not to do so as I said my farewell. If I needed any reminding, I glanced down at the note I had written for counsel. "The bastards are watching." We can never guarantee we will be free from another attack. We must also understand that every day thousands and thousands of our fellow citizens work here and abroad to take us to a new level of readiness and security. For in the end, Americans do not live in fear. We live in freedom. And we will let no one take that freedom away. —Tom Ridge, from THE TEST OF OUR TIMES
Praise For The Test of Our Times: America Under Siege...And How We Can Be Safe Again…
"In his memoir, The Test of Our Times, Tom Ridge, an exemplary public servant, provides a fascinating account of leading the first Department of Homeland Security in a confused and fearful time, as Washington struggled to adapt its bureaucracies and politics to threats it had only dimly perceived until mass murderers struck us on September 11. Tom has written a first draft of history and it's a very memorable one."
—Senator John McCain
"DHS remains a work in progress, and Ridge's singular perspective recommends his memoir to policy makes, students and concerned citizens."
—
Publishers Weekly
"This is that rarest of political memoirs—it neither self-aggrandizes nor settles scores. Rather, it is a shrewd, unsparingly honest assessment of the mistakes and successes of the author and the rest of the Bush Administration's homeland security efforts. Even more valuable, it provides vital, specific guidance to the current administration and the public on securing our country while protecting our freedoms. This is the best book yet on the subject."
—Tony Blankley, Washington Times columnist; co-host of Left, Right, and Center; author of The West's Last Chance: Will We Win the Clash of Civilizations?
"Tom Ridge, the unsung hero of keeping America safe after 9/11, has given us a vivid memoir of leading the greatest reorganization in American history since the creation of the Defense Department."
—Dr. David Abshire, President and CEO, Center for the Study of the Presidency and Congress
"Tom Ridge's inside account of the rock-and-a-hard-place choices our country had to make in the aftermath of 9-11 is a great read – and an eye-opening tour through the thicket of policy, bureaucratic and political hurdles a robust democracy faces when it confronts these choices. My only quibble is that Ridge is characteristically too modest about the personal sacrifices he made in agreeing to tackle this thankless job."
—Steven Brill, founder of Court TV, American Lawyer magazine, and Brill Enterprises; author of After: The Rebuilding and Defending of America in the September 12 Era
"Every law enforcement officer, firefighter, medical responder, as well as all Americans, should read this book."
—Leroy D. Baca, Sheriff, County of Los Angeles
"This is a memoir with a clear purpose: to educate the reader about the extraordinary efforts of dedicated public servants to build an institution vital to America's national security. Tom Ridge describes unknown successes and struggles, and explores the persistent obstacles to achieving a safer country with candor, honesty, and integrity. I would expect no less from this dedicated and remarkable public servant."
—Lee H. Hamilton, Vice-Chair of the 9/11 Commission, President and Director of the Woodrow Wilson International Center for Scholars; co-author of Without Precedent: The Inside Story of the 9/11 Commission
"As the man who created U.S. homeland security in the post 9-11 era, [Tom Ridge] is also the man who can most authoritatively recount how it happened, where we are now, and what still needs to be done. In a candid voice, he does all of that in The Test of Our Time. This is a book which lets the political chips fall where they may. Ridge also fills this important and readable account with pithy anecdotes, self-deprecating humor, compassion and a critical eye to the personalities of those historical events which are still being played out in these very dangerous times."

—Barry Casselman, syndicated columnist and author of North Star Rising, Minnesota Politicians on the National Stage
"As the Canadian counterpart to Tom Ridge following 9/11, I quickly learned that he was one of those rare political leaders who was all about action rather than talk. A patriot and a public servant to his core, Tom is a pragmatic and practical problem-solver, a man whose word could be counted on and who truly made his country safer. His is a compelling story that shows that good people can make a positive difference through commitment to public life."
—John Manley, former Deputy Prime Minister
Thomas Dunne Books, 9780312534875, 304pp.
Publication Date: September 1, 2009
About the Author
The HON. TOM RIDGE became the first secretary of Homeland Security in 2001. The former congressman and governor of Pennsylvania is the president and CEO of Ridge Global, which consults on security, diplomacy, international relations, economic development, and other key issues. Ridge is based on Washington, D.C. LARY BLOOM co-wrote "Letters From Nuremberg "with Senator Christopher J. Dodd. He has written for "The New York Times "and "Connecticut "magazine.
Coverage from NPR
or
Not Currently Available for Direct Purchase