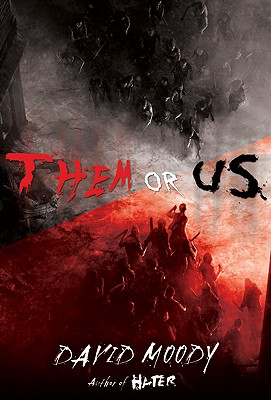 Them or Us (Hardcover)
Thomas Dunne Books, 9780312535834, 368pp.
Publication Date: November 8, 2011
* Individual store prices may vary.
or
Not Currently Available for Direct Purchase
Description
The pulse-pounding conclusion to the HATER trilogy!


The war that has torn the human race apart is finally nearing its end. With most towns and cities now uninhabitable, and with the country in the grip of a savage nuclear winter, both Hater and Unchanged alike struggle to survive.

Hundreds of Hater fighters have settled on the East Coast in the abandoned remains of a relatively undamaged town under the command of Hinchcliffe---who'll stop at nothing to eradicate the last few Unchanged and consolidate his position at the top of this new world order. This fledgling society is harsh and unforgiving---your place in the ranks is decided by how long and how hard you're prepared to fight.

Danny McCoyne is the exception to the rule. His ability to hold the Hate and to use it to hunt out the remaining Unchanged has given him a unique position in Hinchcliffe's army of fighters. As the enemy's numbers reduce, so the pressure on McCoyne increases, until he finds himself at the very center of a pivotal confrontation, the outcome of which will have repercussions on the future of everyone who is left alive.
About the Author
David Moody is the author of "Hater," "Dog Blood," "Autumn" and "Autumn: The City." He grew up in Birmingham, England, on a diet of horror movies and post-apocalyptic fiction. He started his career working at a bank, but then decided to write the kind of fiction he loved. His first novel, "Straight to You," had what Moody calls "microscopic sales," and so when he wrote Autumn, he decided to publish it online. The book became a sensation and has been downloaded by half a million readers. He started his own publishing company, Infected Books. He lives in Britain with his wife and a houseful of daughters, which may explain his preoccupation with Armageddon.
Praise For Them or Us…
"David Moody spins paranoia into a deliciously dark new direction."
—Jonathan Maberry, New York Times bestselling author of Patient Zero

Praise for Hater

"A head-spinning thrill ride . . . Hater will haunt you long after you read the last page."
—Guillermo Del Toro, director of Pan's Labyrinth and Hellboy

"Be careful with Hater. Chapter by chapter it will make its way into your soul till it finds the seed of evil that lurks within."
—J.A. Bayona, director of The Orphanage

"Powerful and well-written."
—S. M. Stirling, author of Dies the Fire

"David Moody's Hater is a brutal, eerie, and hugely entertaining novel that grips you with its grim and nihilistic attitude from page one."
—Tom Piccirilli, Bram Stoker Award--winning author

Praise for Dog Blood

"Lean, relentless, and terrifying."
—Kirkus Reviews

"If Hater gives you nightmares, Dog Blood will rewire your brain."
—Bookreporter.com

"Gory and relentlessly tense."
—Publishers Weekly

"Moody is an inarguably talented author, and Dog Blood further cements his reputation as one of the best horror authors of the new decade."
—Bloody-Disgusting.com
Advertisement