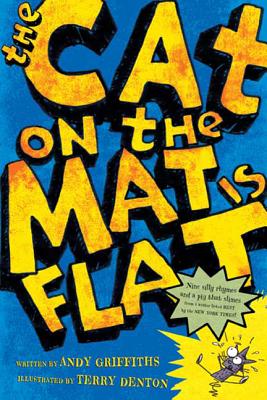 The Cat on the Mat Is Flat
Paperback

* Individual store prices may vary.
Other Editions of This Title:
Prebound (9/1/2009)
Description
From the New York Times bestselling author of The Day My Butt Went Psycho!, comes a collection of ten slimy, rhymey, easy-to-read Dr. Seuss-style short stories.

Muck! Uck! Yuck!
It is just bad luck
When the truck of a duck
Gets stuck in the muck?

Wacky rhymes that won't bore!
All of this and so much more;
What are you waiting for?

With silly rhymes, sound effects, and hilarious art on every page, Andy Griffiths and illustrator Terry Denton capture slapstick physical comedy in a book so easy to read that early elementary school students can read it themselves!
Praise For The Cat on the Mat Is Flat…
"Griffiths's innovative book for beginning readers collects nine short, intentionally silly snippets propelled by kid-pleasing, tongue-tripping verse. . . . Denton's edgy, stick-figure-filled sketches enhance the zaniness factor and the offbeat, ironic humor." —Publishers Weekly

"Imagine the outcome if Dr. Seuss, Dav Pilkey, and Lane Smith were locked in a room until they came up with a book for beginning or reluctant readers. These nine rhyming stories have action galore, plenty of dialogue, and ample pen-and-ink illustrations, all wrapped up in humor. . . . Even young people who are struggling to get the hang of reading may happily handle all 176 crazy pages." —School Library Journal

"Definitely not your parents' easy reader, but perfect for fans of Lane Smith's HAPPY HOCKEY FAMILY." —Kirkus Reviews

"Take one part Dr. Seuss, one part Edward Lear, place in a blender with a dash of Dav Pilkey and a bit of Cartoon Network juice . . . meant to be read as pure joy. It's a piece of candy eaten in secret between meals." —The Excelsior File (blog)

"This collection of stories is fun albeit with a touch of mayhem . . . This is a good book for beginning readers, in the same vein as THE CAT IN THE HAT and THE CAT IN THE HAT COMES BACK. It will likely spark a new rhyming nation of happy youngsters, some of whom will grow up to write their generation's outrageously funny advertising jingles . . . Any beginning reader will find it charmingly slapstick and fun." —Armchair Interviews
Square Fish, 9780312535841, 192pp.
Publication Date: September 1, 2009
About the Author
Andy Griffiths is the New York Times bestselling author of The Day My Butt Went Psycho!, Zombie Butts from Uranus!, and Butt Wars! The Final Conflict, as well as the Treehouse Series and Killer Koalas from Outer Space. In 2007, he became the first Australian author to win six children's choice awards in one year for Just Shocking! He is passionate about inspiring a love of books in his young readers, and works as an ambassador for the Indigenous Literacy Project, which provides books and literacy resources to remote indigenous communities around Australia. Andy is a big fan of Dr. Seuss and of cauliflower. He lives in Melbourne, Australia, and is Australia's most popular children's writer.

Terry Denton is known for his humorous illustration style and has worked with Andy Griffiths on the Treehouse series and the JUST! books among others. He lives by the sea in Australia with his wife, three kids, and a pop-up toaster that only toasts on one side.