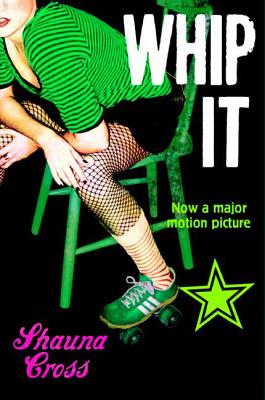 Whip It (Paperback)
Square Fish, 9780312535995, 234pp.
Publication Date: September 15, 2009
Description
Roller derby is back, in all of its rowdy and raucous glory
Meet Bliss Cavendar, an indie-rock-loving misfit stuck in the tiny town of Bodeen, Texas. Her pageant-addicted mother expects her to compete for the coveted Miss Bluebonnet crown, but Bliss would rather feast on roaches than be subjected to such rhinestone tyranny.
Bliss's escape? Roller Derby.
When she discovers a league in nearby Austin, Bliss embarks on an epic journey full of hilarious tattooed girls, delicious boys in bands, and a few not-so-awesome realities even the most hard-core derby chick has to learn.
Shauna Cross' Whip It is then basis of the 2009 Drew Barrymore film Whip It, starring Ellen Page, Alia Shawkat, Marcia Gay Harden and Daniel Stern.
About the Author
Shauna Cross's Whip It was named an American Library Association Best Book for Young Adults and Quick Pick for Young Adults, a YALSA Best Book for Young Adults, and a New York Public Library Book for the Teen Age. It is now a major motion picture directed by Drew Barrymore. Cross is a screenwriter and a member of the Los Angeles Derby Dolls roller derby league. She skates under the name "Maggie Mayhem." She grew up in Austin, Texas, and now lives in Los Angeles.
Praise For Whip It…
"The novel shines in describing the dashing world of roller derby, where the players are hot and have nasty names like Dinah Might, Eva Destruction and Princess Slaya. [Shauna Cross shows] naked enthusiasm for the edgy, underground sport."—Publishers Weekly
"This first-time author combines roller-skating and coming-of-age with a sardonic heroine to create an enjoyable, quick read. Whether Bliss is battling menacing derby mavens or discovering the perils of lying to parents, she is quirky and likeable despite her prickly exterior. . . . Fans of Louise Rennison's Georgia Nicolson books will be pleased with this American counterpart."—Voice of Youth Advocates "Sharp humor dominates this entertaining debut from Cross, who weaves her own experience with roller derby into the fun and traumas of a small-town girl experiencing major rebellion. . . . plenty of laughs and adolescent insights . . . exuberant and insightful."—Kirkus Reviews "Roller derby . . . is conveyed with sexy, enthusiastic energy that injects the whole novel with a warm and authentic vibe."—The Bulletin of the Center for Children's Books
Advertisement