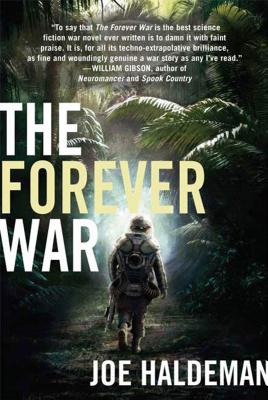 The Forever War
Paperback

* Individual store prices may vary.
Other Editions of This Title:
Digital Audiobook (4/17/2008)
Description
The monumental Hugo and Nebula award winning SF classic-- Featuring a new introduction by John Scalzi

The Earth's leaders have drawn a line in the interstellar sand--despite the fact that the fierce alien enemy they would oppose is inscrutable, unconquerable, and very far away. A reluctant conscript drafted into an elite Military unit, Private William Mandella has been propelled through space and time to fight in the distant thousand-year conflict; to perform his duties and do whatever it takes to survive the ordeal and return home. But "home" may be even more terrifying than battle, because, thanks to the time dilation caused by space travel, Mandella is aging months while the Earth he left behind is aging centuries...
Praise For The Forever War…
"To say that The Forever War is the best science fiction war novel ever written is to damn it with faint praise. It is, for all its techno-extrapolative brilliance, as fine and woundingly genuine a war story as any I've read." —William Gibson, author of Neuromancer, Spook Country

"There are a handful of moments when an American science fiction novel abruptly and seemingly effortlessly satisfied every possible expectation conveyed not only by the genre's ambitions, but of those of the whole literary landscape with which it was contemporary: Sturgeon's More Than Human, Dick's The Man In The High Castle, LeGuin's Dispossessed, Gibson's Neuromancer. The Forever War is one such book, and like those others still carries with it that air of recognition and possibility." —Jonathan Lethem, author of Gun With Occcasional Music, Fortress of Solitude

"Perhaps the most important war novel written since Vietnam . . . Haldeman, a veteran, is a flat-out visionary . . . and protagonist William Mandella's attempt to survive and remain human in the face of an absurd almost endless war is harrowing hilarious heartbreaking and true . . . like all the best works of literature THE FOREVER WAR takes you apart and then, before you can turn that last page, puts you back together: better, wiser, more human. Simply extraordinary." —Junot Diaz, Pulitzer Prize winning author of The Brief and Wondrous Life of Oscar Wao

"If there was a Fort Knox for Science Fiction writers, we'd have to lock Joe Haldeman up." —Stephen King, author of The Shining, The Dead Zone, The Stand

"The Forever War is not just a great Science Fiction novel, it's a great Vietnam war novel - and a great war novel, without qualification- that is also Science Fiction. A classic to grace either genre." —James Sallis, author of The Long Legged Fly, Drive, Cripple Creek

"FOREVER WAR is brilliant--one of the most influential war novels of our time. That it happens to be set in the future only broadens and enhances its message." —Greg Bear, author of Moving Mars, Eon, The Forge of God

"A parable whose lessons are needful learning once more." —John Scalzi, author of Old Man's War, The Ghost Brigades, Zoe's Tale

"I first read this twenty years ago and have never forgotten the wonder and fury it kindled at the time. Anyone who talks about the glory of war has obviously never read it. A beautifully detailed and intensely personal account of a conflict which lasts for over a thousand years, as told by one grunt who lives through it all. Only a writer as skillfull and knowledgeable as Haldeman could use war's dark glamour to lure the reader in and then deplou the sam fascination to show just what kind of effect this orchestrated barbarism can have on the human soul." —Peter F. Hamilton, author of Pandora's Star, Judas Unchained, The Dreaming Void

"In a literature of ideas, The Forever War is a titan: a book filled with mind-bending ideas about relatavistic time-distortion and world-shaking ideas about the futility of war. In today's world, where we think declaring war on abstract nouns like TERROR is a winning strategy, we need THE FOREVER WAR." —Cory Doctorow, author of Down and Out in the Magic Kingdom, Little Brother X

"It is to the Vietnam War what Catch-22 was to World War II, the definitive, bleakly comic satire." —Thomas M. Disch, author of Camp Concentration, 334

"The Forever War does what the very best science fiction does. It deals with extremes both societal and teleological; it places a frame around humankind's place in the universe to show us what is outside the frame; and it functions simultaneously at the literal and metaphorical level. Inarguably one of the genre's great novels, it is also among the finest novels ever written about war." —James Sallis, author of The Long Legged Fly, Drive, Cripple Creek
St. Martin's Griffin, 9780312536633, 288pp.
Publication Date: February 17, 2009
About the Author
Having won the Hugo and Nebula Award's more times than any other author, Joe Haldeman is an ultimate household name in science fiction.  A Vietnam Veteran and Purple Heart recipient, since the original publication of The Forever War, Joe has maintained a continuous string of SF best-sellers, and as a speaker and panelist, has been a constant presence on the SF convention circuit.  A longtime tenured Professor of Creative Writing at MIT, beyond his own career, from Cory Doctorow to John Scalzi, Haldeman is widely acknowledged as a key mentor figure to many of this generation's crop of rising SF stars.