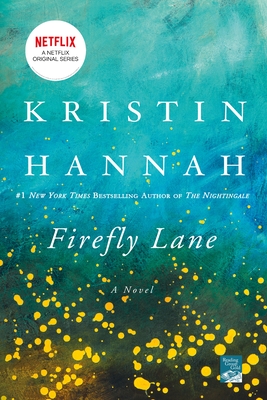 Firefly Lane
A Novel
Paperback

* Individual store prices may vary.
Other Editions of This Title:
Digital Audiobook (2/4/2008)
Paperback (12/29/2020)
Mass Market (12/29/2020)
MP3 CD (11/4/2016)
Compact Disc (4/30/2014)
Paperback, Chinese (1/4/2020)
Description
From the New York Times bestselling author Kristin Hannah comes a powerful novel of love, loss, and the magic of friendship. . . . now a #1 Netflix series!

In the turbulent summer of 1974, Kate Mularkey has accepted her place at the bottom of the eighth-grade social food chain. Then, to her amazement, the "coolest girl in the world" moves in across the street and wants to be her friend. Tully Hart seems to have it all---beauty, brains, ambition. On the surface they are as opposite as two people can be: Kate, doomed to be forever uncool, with a loving family who mortifies her at every turn. Tully, steeped in glamour and mystery, but with a secret that is destroying her. They make a pact to be best friends forever; by summer's end they've become TullyandKate. Inseparable.

So begins Kristin Hannah's magnificent new novel. Spanning more than three decades and playing out across the ever-changing face of the Pacific Northwest, Firefly Lane is the poignant, powerful story of two women and the friendship that becomes the bulkhead of their lives.

From the beginning, Tully is desperate to prove her worth to the world. Abandoned by her mother at an early age, she longs to be loved unconditionally. In the glittering, big-hair era of the eighties, she looks to men to fill the void in her soul. But in the buttoned-down nineties, it is television news that captivates her. She will follow her own blind ambition to New York and around the globe, finding fame and success . . . and loneliness.

Kate knows early on that her life will be nothing special. Throughout college, she pretends to be driven by a need for success, but all she really wants is to fall in love and have children and live an ordinary life. In her own quiet way, Kate is as driven as Tully. What she doesn't know is how being a wife and mother will change her . . . how she'll lose sight of who she once was, and what she once wanted. And how much she'll envy her famous best friend. . . .

For thirty years, Tully and Kate buoy each other through life, weathering the storms of friendship---jealousy, anger, hurt, resentment. They think they've survived it all until a single act of betrayal tears them apart . . . and puts their courage and friendship to the ultimate test.

Firefly Lane is for anyone who ever drank Boone's Farm apple wine while listening to Abba or Fleetwood Mac. More than a coming-of-age novel, it's the story of a generation of women who were both blessed and cursed by choices. It's about promises and secrets and betrayals. And ultimately, about the one person who really, truly knows you---and knows what has the power to hurt you . . . and heal you. Firefly Lane is a story you'll never forget . . . one you'll want to pass on to your best friend.
Praise For Firefly Lane: A Novel…
"Hannah's latest is a moving and realistic portrait of a complex and enduring friendship." —Booklist

"Not since Iris Dart's Beaches, twenty years ago, has there been a story of friendship that endures everything, from girlhood dramas to bitter betrayal, to be the touchstone in two women's lives. In Firefly Lane, Kristin Hannah creates the most poignant of reunions and an unforgettable story of loyalty and love" —Jacquelyn Mitchard, author of The Deep End of the Ocean

"A tearjerker that is sure to please the author's many fans." —Library Journal

"With perfect pitch, Kristin Hannah describes the tumult and energy of the 70s and 80s, and on a deeper level takes readers into the heart of a friendship between two women. Firefly Lane is masterful at the grand sweep and the fine detail." —Elin Hilderbrand, author of Barefoot

"This terrific buddy saga about two best girlfriends who survive all sorts of escapades and catastrophes will inevitably provoke comparisons with Iris Dart's 'Beaches,' but the story is all Hannah's own." —The Seattle Times

"No one writes more insightfully about women's friendships with all of their messy wonder, humor, pain and complexity like Kristin Hannah. She's a marvel." —Susan Elizabeth Phillips, author of Natural Born Charmer
St. Martin's Griffin, 9780312537074, 528pp.
Publication Date: January 6, 2009
About the Author
KRISTIN HANNAH is the #1 New York Times bestselling author of more than twenty novels, including The Nightingale, The Great Alone, and The Four Winds. A former lawyer turned writer, she lives with her husband in the Pacific Northwest.
1. One of the first things Tully says to Kate is a lie. Indeed, Tully is quick to lie throughout her life. Do you think this trait is her way of hiding the shames in her past or is it a willful reinterpretation of self ? Do these lies and manipulations, big and small, help her ultimately to be more honest about who she is or do they undermine her ability to face her own shortcomings?
2. From her earliest memory, Tully feels abandoned by her mother and father. How does this sense of being unwanted influence her life? How does her troubled relationship with her mother lead to the decisions she makes in her life? Do children have an obligation of some kind to forgive their parents,even in the face of repeated disappointment? How much do you think childhood heartaches make us who we are?
3. The Kate-Johnny-Tully triangle is one of the central threads of the novel. How does Johnny really feel about Tully? How does Tully feel about him?
4. Kate believes she is Johnny's second choice for love. How does Johnny contribute to her insecurities? How does Tully? How much of a relationship is set in the beginning and how are changes made as we grow?
5. When Chad leaves Tully, she rationalizes away her broken heart by saying, "if he really loved me, he would wait for me." What does this reveal about Tully's perception of romantic love? How do these perceptions set the stage for the rest of her life? Do you believe that Tully will ever fall in love?
6. Near the end of the novel, when their friendship is on the rocks, both women feel wronged. Certainly Kate has ample reason to feel betrayed, but what about Tully's similar belief ? Do you understand why Tully was upset, too? Do you believe that a friend should always reach out, even when great pain has been caused? Or do you believe that true friends would never hurt each other?
7. Kate is continually striving to live up to the "supermom" ideal, and continually feels that she has failed in this attempt. Do you think she has succeeded or failed? Discuss the idealized vision society has set up for both working moms and at-home moms. Who do you think has the harder road, and how can women best balance the various responsibilities of their lives? Kate often felt that society discounted her choice to be a stay-at-home mom, and that even her family wanted her to somehow "do more" or "be more." Do you think she was right or wrong to feel this way?
8. At which moment in the novel did you first notice a hint of tension between Tully and Kate? Who do you feel was to blame for this turning point?
9. What do you feel Kate was most jealous about with regards to Tully? And what was Tully the most envious of in Kate's life? Jealousy is often wanting what we cannot have. Do you feel that these characters truly could not have the things they wanted? If not, why not?
10. Under what circumstances do you feel a betrayal is unforgivable? Do you feel that any of these characters crossed that line?
11. What role do you see Tully playing in Mara's life, after the pages of the novel are closed ?Johnny's life?
12. In the end, Kate comes full circle in her life and accepts the choices she has made, and in fact, discovers that she would do it all over again. She is fully at peace with who she is for perhaps the first time. How is this acceptance a gift to her children, her husband, and her best friend? And where do you think Tully ends up in terms of her own self worth? How will Kate's illness change her life?