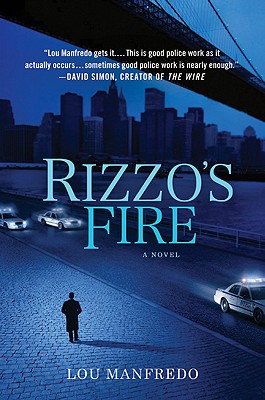 Rizzo's Fire (Hardcover)
Minotaur Books, 9780312538064, 304pp.
Publication Date: March 1, 2011
* Individual store prices may vary.
or
Not Currently Available for Direct Purchase
Description
As twenty-year NYPD veteran Joe Rizzo edges closer to retirement, things only seem to get harder: a new partner, a promise to his wife to quit smoking, and the most baffling case of his career—a murder investigation.

The victim, Robert Lauria, was practically a hermit and was dead ten days before anyone found him. Fired from his job as a shoe salesman weeks ago, he rarely left his apartment and had no visitors except his cousin, who says she hardly knew him. So who strangled him late one night as he made tea in his kitchen? And could there be a connection to the headline-grabbing murder of a Broadway producer a day earlier?

Armed with more street smarts than the FBI agents assigned to the more glamorous case, Rizzo and his new partner, Priscilla Jackson, are tasked with navigating the twin labyrinths of the case and NYPD politics in order to find the killer and bring him to justice.

Full of the sounds and sights of walking the beat in Bensonhurst, Rizzo's Fire comes on the heels of Lou Manfredo's acclaimed debut, Rizzo's War, and brings the streets of Brooklyn to life in a way that no New York City crime novel has before.
Rizzo's Fire is a Kirkus Reviews Best of 2011 Mysteries title.
About the Author
Lou Manfredo, author of "Rizzo's War," worked in the Brooklyn criminal justice system for twenty-five years. His short fiction has appeared in "Best American Mystery Stories," Ellery "Queen Mystery Magazine," and "Brooklyn Noir." This is his second novel. Born and raised in Brooklyn, he now lives in New Jersey with his wife.
Praise For Rizzo's Fire…
Praise for Rizzo's War

"Lou Manfredo gets it . . . This is good police work as it actually occurs . . . sometimes good police work is nearly enough."
—David Simon, creator of The Wire

"Manfredo shows us the nitty-gritty of police work . . . It's a realistic portrait . . .  a solid debut."
—The Washington Post

"Comparable to the late Ed McBain's brilliant 87th Precinct procedurals . . . Manfredo's novel resonates with authenticity."
—South Florida Sun-Sentinel

"In this engrossing debut novel Lou Manfredo gives us a modern-day police procedural that is equally concerned with insights into character as with apprehending criminals."
—Smartmoney.com

"Verdict: With Ed McBain gone, there's need for a quality New York City police procedural series, and Manfredo could fill the bill with this debut featuring two appealing cops. This may attract fans of McBain and Joseph Wambaugh, but Manfredo is his own man, and his novel should have broad appeal."
—Library Journal (starred review)

"Detective Joe Rizzo [is] a white knight in the dark city of New York. . . .  The author excels at moving his plot forward and creating a realistic landscape that shows both the politics and practice of police work. A wonderful husband and dad, Rizzo drops chestnuts of wisdom at every turn."
—Publishers Weekly

"Gritty, gripping first novel deconstructs the NYPD the way Joseph Wambaugh once anatomized the LAPD. . . . Strong characters and a compelling story. Manfredo has logged twenty-five years in the criminal justice system, and it shows on every authentic page."
—Kirkus Reviews (starred review)



Gripping.... Bar none, Joe Rizzo is the most authentic cop in contemporary crime fiction.
Advertisement