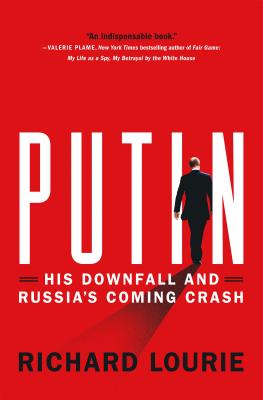 Putin
His Downfall and Russia's Coming Crash
Hardcover

* Individual store prices may vary.
Description
An electrifying and timely book, by leading Russian expert Richard Lourie, that explores Putin's failures and whether Trump's election gives Putin extraordinarily dangerous opportunities in our mad new world.

"A master chronicler of modern Russia. Drawing on his own expertise, Lourie paints a convincing portrait of a ruthless authoritarian leader headed toward failure. This book serves as an essential primer on Putin and, by extension, Russia."—Publishers Weekly

For reasons that are made clear in this book, Putin's Russia will collapse just as Imperial Russia did in 1917 and as Soviet Russia did in 1991. The only questions are when, how violently, and with how much peril for the world. The U.S. election complicates everything, including:

· Putin's next land grab
· Exploitations of the Arctic
· Cyber-espionage
· Putin and China
…and many more crucial topics.

Putin: His Downfall and Russia's Coming Crash is an essential read for everybody bewildered and dismayed by the new world order.
Praise For Putin: His Downfall and Russia's Coming Crash…
"Longtime Russia expert Lourie's enlightening new book examines what motivates Putin as he confronts the U.S., Russia's most existential threat."—Booklist

"A master chronicler of modern Russia. Drawing on his own expertise, Lourie paints a convincing portrait of a ruthless authoritarian leader headed toward failure. This book serves as an essential primer on Putin and, by extension, Russia."—Publishers Weekly

"Provocative book [...] solid overall, as crystal-ball geopolitical treatises go, though with enough hedging to allow for a broad range of outcomes."—Kirkus Reviews

"This work tackles some of the most difficult questions concerning Putin's influence in global and Russian national affairs, with a novelist's eye for language and a political commentator's flair for dramatic intrigue...An astute look at modern Russia and the man at its helm."—Library Journal

"A timely history lesson, Putin is a must-read for anyone interested in Russia and in understanding how current events can provide a glimpse into the future."—Bookpage

"Richard Lourie has written an indispensable book for anyone seeking to understand Russia and Putin today. Fascinating and approachable with plenty of regulatory anecdotes, Putin goes a long way toward explaining Putin's actions and motivations which become obvious once you see the context. Understanding the man behind the mask will aid all those having dealings with Putin and his Russia." —Valerie Plame, New York Times bestselling author of Fair Game: My Life as a Spy, My Betrayal by the White House

"Vienna had Sigmund Freud. Now Russia and Putin have Richard Lourie. Lourie diagnoses Russia as suffering from narcissistic injuries inflicted not only by history generally but by the west specifically, denuded of icons, and utterly dependent on the ongoing will to power of the only person in Russia who now matters. Drawing on an encyclopedic knowledge of Russian culture, Lourie palpates and articulates the distinct phrenology of Russia's intellectuals,masses, and governing classes to locate Russia's quintessential exaltation, dread, fervor, and pugnacity within the individual body and soul of Vladimir Putin. In Lourie's Russia, and for Lourie's Putin, ontogeny does indeed recapitulate phylogeny." —Jonathan M Winer, former US Deputy Assistant Secretary of State

"Richard Lourie knows Russia — and better yet, he knows Russians, at street level up through his friend Sakharov's stratosphere of science and art. On the rough, tough enigma of Vladimir Putin, Lourie's is a most satisfying voice: tough in its own way but digressive, historically and personally informed, acutely sensitive to vibrations of religion, culture, the missing iconography of the Putin era and the eternal iconoclasm in the Russian soul."—Chris Lydon, host, Radio Open Source.

"A must-read for anyone interested in the mind-set and motivations of the man who rules Russia. Richard Lourie's fascinating Putin: The Rise and Fall is at once an insightful, engaging and critical study of Vladimir Putin as well as a compelling history of the Russia he rules. Both stories are deftly interwoven in Lourie's incisive narrative which illuminates Putin's path to power at home and his projection of strength abroad. As the biographer of the Soviet dissident Andrei Sakharov and a seasoned specialist in Soviet affairs, Lourie is well-positioned to meld the travails of Russia's past with the realpolitik of Putin's present. He does so with wit and verve, painting the turmoil of Russian history, the tragedy of Stalin's terror and the chaos of the post-Soviet years with both broad brush strokes and an eye for the telling detail. His landscape is a breathtaking one from the venal grasp of oligarchs to the global imperatives of geopolitics. Lourie's felicitous prose makes this complex subject at once riveting and accessible." —Jack Schwartz, Former Editor The New York Times Culture Section and Editor of Newsday's book pages

"Richard Lourie's Putin is a vivid description of the man and his world, an erudite yet easy read crammed with fascinating insights and anecdotes from his decades of reporting from Russia and the Soviet Union. I enjoyed it immensely." —Martin Fletcher

"An erudite and elegant read. It takes a deep knowledge of Russian history and an intimate understanding of its culture to be able to describe its current state so concisely. " —Masha Gessen, National Jewish book Award Winning author and journalist
Thomas Dunne Books, 9780312538088, 288pp.
Publication Date: July 18, 2017
About the Author
RICHARD LOURIE is the critically acclaimed author of both fiction and nonfiction, including The Autobiography of Joseph Stalin and Sakharov: A Biography. He has translated more than thirty books and served as Mikhail Gorbachev's translator for The New York Times. His articles and reviews have appeared in many influential publications, including The New York Times, The Washington Post, the New Republic, and The Nation. He has also served as a consultant on Russia to Hillary Clinton during her 2008 presidential run.
or
Not Currently Available for Direct Purchase