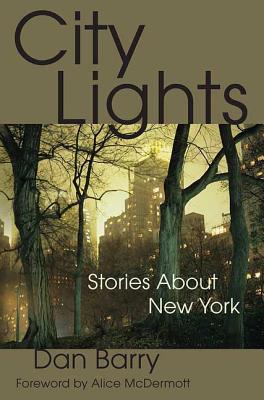 City Lights (Paperback)
Stories About New York
St. Martin's Griffin, 9780312538910, 320pp.
Publication Date: March 31, 2009
* Individual store prices may vary.
Description
With a poet's clear eye and a journalist's curiosity about how a city works, Dan Barry shows us New York as no other writer has seen it.
Evocative, intimate, piercing, and often funny, the essays in City Lights capture everyday life in the city at its most ordinary and extraordinary. Wandering the city as a columnist for The New York Times, Barry visits the denizens of the Fulton Fish Market on the eve of its closing; journeys with an obsessed guide through the secret underground of abandoned subway stops, tunnels, and aqueducts; touches down in bars, hospitals, churches, diners, pools, zoos, memorabilia-stuffed apartments, at births and funerals, the places where people gather, are welcomed, or depart; talks to the ex-athlete who caught the falling baby, the performance artist who works as a mermaid, the octogenarian dancers who find quiet joy in their partnership, and the guy who waves flags over the Cross-Bronx Expressway to wish drivers safe passage.
Along the way, Barry offers glimpses of New York's distant and recent past. He explains why the dust-coated wishbones hanging above the bar at McSorley's Old Ale House belong to the doughboy ghosts of World War I. He recalls a century of grandeur at the Plaza Hotel through the tales of longtime doormen who will soon be out of a job. He finds that an old man's quiet death opens back into a past that the man had spent his life denying. And, from the vantage of the Circle Line cruise around Manhattan, he joins tourists as they try to make sense of still-smoldering ruins in Lower Manhattan three weeks after September 11, 2001.
Each story in City Lights illuminates New York, as it was and as it is: always changing, always losing and renewing parts of itself, every street corner an opportunity for surprise and revelation.
About the Author
Dan Barry wrote the weekly column "About New York" for The New York Times from June 2003 to November 2006, and now writes a national column for the Times called "This Land." He was a nominated finalist for the 2006 Pulitzer Prize for Feature Writing for his coverage of New Orleans following Hurricane Katrina and for his coverage of life in New York City, and shared the 1994 Pulitzer for Investigative Reporting while working at the Providence Journal. He is also the author of a memoir, Pull Me Up. Born in New York and raised on Long Island, he lives with his family in Maplewood, New Jersey.
Praise For City Lights: Stories About New York…
"Like an old-time radio announcer conjuring up a field of green in describing the play-by-play of a baseball game, Barry conveys a you-are-there feeling in City Lights. He is so graceful a stylist that he can make even a cold-weather story--a night when the temperature dropped to 1 degree--worth reading (with pleasure)." —NY Times
"Quite possibly I have missed a new generation of newspaper writers whose familiarity with and sensitivity to their urban bailiwick, as well as a gift for pungent and nimble prose, has made them an essential part of their cities' cultures--I'm thinking of Herb Cain, Mike Royko, Jimmy Breslin, and Murray Kempton. Possibly Dan Barry is a modern-day version of those types." —The Morning News
"This is a great book to dip into, reading randomly, a column at a time. It's the book I'm giving to everyone I know who loves New York." —Alice McDermott, Commonweal
"Among writers about New York, Dan Barry is very special. He does justice to the subject; no one today writes more perceptively about the city and its people." —Gay Talese
"A glowing collection of essays that sparkles and illuminates as much as the city it endeavors to capture... Readers will thank Barry for bringing these stories to their attention." —Booklist
"Highly evocative." —Publishers Weekly
"Terrific... [Barry] absolutely captures the diurnal kaleidoscope of this pell-mell place that comprises, in its immense diversity and Sisyphean tragedy, the constantly changing face of America." —Virginian-Pilot