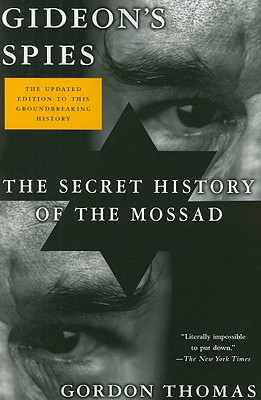 Gideon's Spies (Paperback)
The Secret History of the Mossad
St. Martin's Griffin, 9780312539016, 736pp.
Publication Date: March 3, 2009
* Individual store prices may vary.
Description
In the secret world of spies and covert operations, no other intelligence service continues to be surrounded by myth and mystery, or commands respect and fear, like Israel's Mossad. Formed in 1951 to ensure an embattled Israel's future, the Mossad has been responsible for the most audacious and thrilling feats of espionage, counterterrorism, and assassination ever ventured.
Gideon's Spies draws from classified documents, confidential sources, and closed-door interviews with Mossad agents, informants, and spymasters to reveal the organization's deepest secrets. This fifth edition is completely updated with new information, including the Mossad hospital raid that eventually uncovered sleeper cells in Britain, the assassination of the world's second most-wanted terrorist, the discovery of an unknown nuclear facility in Iran, the intricate relationship between Israeli intelligence and the Bush administration's war on terror, and why one former Mossad chief says, "We are looking down the barrel of World War III unless the world wakes up."
About the Author
Gordon Thomas is a bestselling author of forty books published worldwide, many of which have dealt with aspects of the intelligence world. His latest book is "Secret Wars: One Hundred Years of British Intelligence Inside MI5 and MI6." He lives in London.
Praise For Gideon's Spies: The Secret History of the Mossad…
Praise for Gideon's Spies

"A fascinating look at a spy organization that has remained off-limits to most journalists. A first-rate nonfiction account."---GQ

"Thomas handles highly dramatic material with clarity and impact."---The Washington Post Book World

"Using eye witness accounts from directors, agents, and even assassins, Thomas goes...inside the Mossad, Israel's ruthless, super-secretive intelligence agency."---Maxim

"A compelling read, with any number of disturbing revelations."---FHM

"Espionage buffs will love every page."---Booklist
"Grabs attention with a riveting yarn…will have readers intrigued."---Publishers Weekly

"Tells it like it was---and like it is."---Meir Amit, former director general of Mossad

"This is an anecdote-rich...series of tales about the extraordinary derring-do of Israel's vaunted elite foreign intelligence service.... [C]ontaining much juicy ready-for-film-adaptation material."---Kirkus
or
Not Currently Available for Direct Purchase