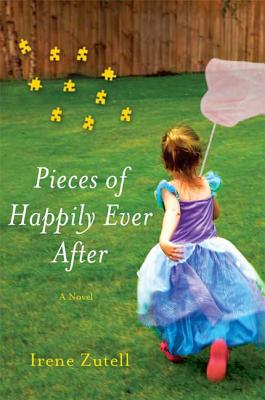 Pieces of Happily Ever After
A Novel
Paperback

* Individual store prices may vary.
Description
What happens after "happily ever after"? Alice Hirsh is about to find out…

Alice, a former New Yorker who thought she'd never feel at home in the bizarre world of the San Fernando Valley, was adapting, raising her 5-year-old daughter while trying to keep her job and make her new house a home. When her attorney husband lands a trophy client – box-office queen Rose Maris – things begin to look up. Then Alex starts working late – a lot. He crunches his paunch into a six-pack and trades his Gap ensembles for Armani everything.

Soon, Rose and Alex's affair blazes in the tabloids and Alice is plunged into trash-gossip hell. Her life crumbles around her as she navigates her newly single self through suburban LA --a place rife with porn stars, psycho soccer moms and nutty neighbors.

Is there a chance to wrest Alex from the Sexiest Woman Alive? And if so... would Alice want him back? And what about George--her college sweatheart? Or Johnny, a walking charm-bomb paparazzo? As Alice inventories the rubble of her life, she desperately searches for her bearings and is forced to ask herself what she really wants from life, love and herself.
Praise For Pieces of Happily Ever After: A Novel…
"A sassy, sweet tale of love lost and found." —Publishers Weekly

"Young Gabby's obsession with fairy tales subtly mirrors Alice's new life as she explores what happens when you have to rescue yourself and make your own happily ever after, hopefully meeting a true Prince Charming along the way." —Booklist

"This should give anyone experiencing drama in his or her life comfort to know that happily ever after comes in the moments between the disappointments, sadness and frustration. Pieces of Happily Ever After reminds us we just need to look for them." —The Huffington Post

"Zutell's cast of characters are layered and detailed. Even those with bit parts are well-developed. And Zutell doesn't let her characters take the easy road as heroine Alice navigates her way back to happiness and maybe a bit of happily ever after." —TheBookChick.com

"[A] very funny debut novel [that] damns Hollywood hotcha culture, reproducing its lower-end pitches perfectly… [It] catches Tinseltown at its worst." —Publishers Weekly on They're Not Your Friends

"Hilarious, poignant, and so true to life it's frightening. They're Not Your Friends is a very entertaining Hollywood novel and the perfect summer read." —Robin Lynn Williams, author of The Assistants, on They're Not Your Friends

"A hilarious, from-the-heart debut." —Melissa Senate, author of See Jane Date and Whose Wedding Is It Anyway? on They're Not Your Friends
St. Martin's Griffin, 9780312540098, 304pp.
Publication Date: September 1, 2009
About the Author
Irene Zutell began her career as a journalist. She has written for People, Us Weekly, The New York Times, the NY Daily News, Newsday, USA Today and others. She is the author of Pieces of Happily Ever After. She lives in Los Angeles with her husband and two children.