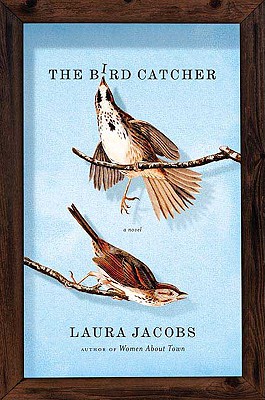 The Bird Catcher
Hardcover

* Individual store prices may vary.
Description
Margret Snow is the quintessential New York woman. She dresses the windows of Saks Fifth Avenue by day and mingles in the downtown art world by night, always searching for her niche in a city intent on capturing The Next Big Thing as it flies into view. Married to Charles, a professor at Columbia, and living on the Upper West Side, the backdrop to Margret's life is made up of the poetic rhythms and colors of the Manhattan day: slow-running buses, the gray morning light striking the Hudson, the winter landscape of Riverside Park, the endless round of gallery openings, cocktail parties and grand dinners in the palatial apartments on Manhattan's upper east side. Against this metropolitan whirl, Margret and Charles pursue a lifelong hobby of bird watching, a passion for which was kindled by her grandfather during long-past summers near the shore in Gloucester, Massachusetts. As they shuttle between their Manhattan apartment, birding in the city's parks, and weekends out of town in their house near Cape May, a violent upheaval pushes Margret beyond the boundaries of her hobby. Overnight, she becomes an art world sensation and just as suddenly has fame ripped from her. As Laura Jacobs proved in her first novel, "Women About Town," she understands the natural habitat of the New York Woman in all its complexity. In The Bird Catcher, her second, she moves deeper into that territory with the story of a remarkable woman who is as rare and special as the birds that fill the skies above her.
Praise For The Bird Catcher…
"Laura Jacobs firmly establishes herself as one of our most astute and elegant observers of a certain rarefied species of female Manhattanite . . . Enchanting." —Vanity Fair

"Laura Jacobs is an urban miniaturist. In her sleek, pitch-perfect second novel, The Bird Catcher, she lavishes delectable attention on the subtle distinctions wrought by taste, class, money, and style in the city on which she trains her eagle eye….Jacobs orchestrates her character's sonata as expansively and dramatically as a symphony whose strains linger on, long after the last page has been turned." —Bookforum
"Jacobs presents a measured and compelling yet nonlinear narrative so that readers encounter Margret's life in pieces. And it is well worth the effort to get to know her. Jacobs' incisive writing captures her characters' moods, while her graceful descriptions of the birds that inspire her protagonist illuminate the story." —Booklist
Picador, 9780312540227, 304pp.
Publication Date: June 22, 2010
About the Author
Laura Jacobs is an award-winning contributing editor at "Vanity Fair" and is the dance critic for "The New Criterion." She has written for many other publications, including the "Atlantic Monthly," the "Village Voice," the "New"" Republic," the "Boston Phoenix," and the "Chicago Reader." Her first novel, "Women About Town," was a Literary Guild Selection. She lives in New York City with her husband, writer James Wolcott.
or
Not Currently Available for Direct Purchase