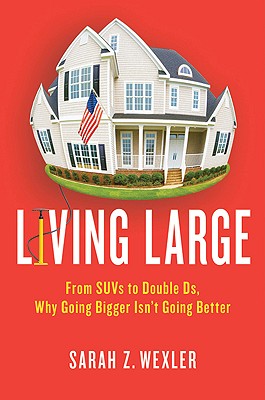 Living Large: From SUVs to Double Ds, Why Going Bigger Isn't Going Better (Hardcover)
From SUVs to Double Ds, Why Going Bigger Isn't Going Better
St. Martin's Press, 9780312540258, 231pp.
Publication Date: October 26, 2010
* Individual store prices may vary.
or
Not Currently Available for Direct Purchase
Description
Supersizing has become an American way of life. We have XXL cars, homes, and waistlines. We built the world's tallest monument. We get the largest breast implants. We're home to the world's largest retailer, sports stadiums, and office building. But with a deep recession and our nation's leaders urging us to reassess the impact of our daily lives, it has become impossible to ignore the effects on our environment, finances, communities, and psyches of going ever-bigger.
By turns funny and incisive, Living Large is a nation-spanning journey into the world of "extreme big," from North Way Christian Community Church in Wexford, Pennsylvania (one of the 1,300 American megachurches), to Bloomington, Minnesota's, Mall of America (4.2 million square feet in size); from the Tiffany flagship store in Manhattan (where in the past two decades the average engagement ring diamond has nearly doubled in size), to Whittier, California (home of America's largest landfill).
Wexler's firsthand reports on going for a breast enlargement consultation, trying to lift the world's largest ball of twine, getting lost in the country's largest hotel, talking shop with members of the Hummer Club of America are complemented by interviews with researchers, economists, business owners, critics, and consumers. Living Large offers a fascinating, thought-provoking look at a nation that's been supersizing for centuries but is only now coming to terms with its appetite for more.
About the Author
SARAH Z. WEXLER is a staff writer at Allure. She has written for Esquire, Wired, The Washington Post Magazine, Popular Science, Marie Claire, and Ladies' Home Journal. She has an MFA in creative nonfiction and lives in New York.
Praise For Living Large: From SUVs to Double Ds, Why Going Bigger Isn't Going Better…
"[Wexler's] witty narrative makes her supersize warning easy to swallow and hard to ignore." People Magazine, 3 ½ stars (of 4)
"Wexler reminds us that Americans have completely lost perspective, both literally and figuratively… Amusing and timely." —Kirkus Reviews
"By turns horrified, tempted, incredulous, guilt-ridden, mystified, and captivated by these excesses, Wexler approaches her subject with a compassion born of her own complicity (she's an SUV driver and enjoys her shopping)… Wexler brings a friendly first-person perspective to her study of surfeit and of the psychology behind our compulsion to consume and squander." —Publishers Weekly
"Wexler takes us on the most insightful couch-potato tour of American excess out there.… Filled with the comic irony of a Stewart or Colbert." —John de Graaf, coauthor of Affluenza: The All-Consuming Epidemic
"I'll just say it, since someone has to: This is a hugely entertaining book." —A.J. Jacobs, author of The Guinea Pig Diaries and The Year of Living Biblically
"Perfectly timed. This is a gorgeous romp of sharp cultural criticism by one of America's big new voices." —Jeanne Marie Laskas, award-winning author of Growing Girls
Advertisement