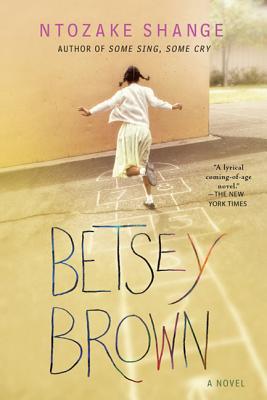 Betsey Brown
A Novel
Paperback

* Individual store prices may vary.
Description
Praised as "exuberantly engaging" by the Los Angeles Times and a "beautiful, beautiful piece of writing" by the Houston Post, acclaimed artist Ntozake Shange brings to life the story of a young girl's awakening amidst her country's seismic growing pains. Set in St. Louis in 1957, the year of the Little Rock Nine, Shange's story reveals the prismatic effect of racism on an American child and her family. Seamlessly woven into this masterful portrait of an extended family is the story of Betsey's adolescence, the rush of first romance, and the sobering responsibilities of approaching adulthood.
Praise For Betsey Brown: A Novel…
"A lyrical coming-of-age novel." —The New York Times
"The pages go whoosh!" —Kirkus Reviews on Sin City
"Shange is a superb storyteller who keeps her eye on what brings her characters together rather than what separates them…. After you've read Betsey Brown to yourself, you can read it aloud to a friend." —The New York Times Book Review
"It's the truth Betsey Brown is a beautiful, beautiful piece of writing." —Houston Post
"Shange has re-created a humorous, charming, and heartbreaking vision of St. Louis and the Brown family that will delight young and old. She can conjure, as if by magic.... Betsey Brown is like an enchanting melody." —St. Louis Post-Dispatch
"Ntozake Shange is a unique and gifted, literary executant and works under strong impulses to do things her own way despite settled conventions of craft. The author's peculiar chemistry (a synonym for talent), plus her singlemindedness, has brought her a decided victory. She has made Betsey Brown live. We care about the child and wonder what will happen to her, how she will fare. This doubtless was the author's intention and mission." —Chicago Sun Times
"No contemporary writer has Shange's uncanny gift for immersing herself within the situations and points-of-view of so many different types of women. No wonder she has achieved an almost oracular status among her female readers. She is a writer of many masks. She can serenade you, and she can cut you; she can chirp, as well as growl; she can delight, as well as antagonize." —Ishmeal Reed
"Betsey Brown is a joy to read. Every sentence seems filled with a delicate, jubilant, sly, comical, musical brio. The energy, good humor, imagination and joie de vivre make this novella refreshing exception to most contemporary fiction." —Philip Lopate
"Ntozake Shange's writings compose one long, continuous song: by part blues medley, swaying gospel melody, plaintive torch ballad." —Washington Times
St. Martin's Griffin, 9780312541231, 208pp.
Publication Date: September 28, 2010
About the Author
Ntozake Shange (1948-2018) was a renowned playwright, poet, and novelist. Her works include the Tony Award-nominated and Obie Award-winning for colored girls who have considered suicide/when the rainbow is enuf, as well as Some Sing, Some Cry (written with her sister Ifa Bayeza), Sassafrass, Cypress & Indigo and Liliane.
Among her honors and awards are fellowships from the Guggenheim Foundation and the Lila Wallace-Reader's Digest Fund and a Pushcart Prize. She was a graduate of Barnard and recipient of a Masters in American Studies from University of Southern California.