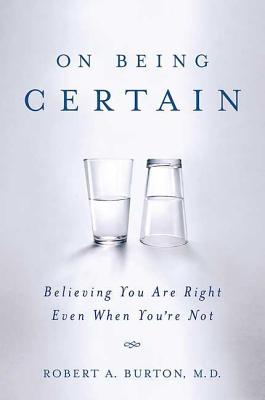 On Being Certain
Believing You Are Right Even When You're Not
Paperback

* Individual store prices may vary.
Description
You recognize when you know something for certain, right? You "know" the sky is blue, or that the traffic light had turned green, or where you were on the morning of September 11, 2001--you know these things, well, because you just do.

In On Being Certain, neurologist Robert Burton shows that feeling certain—feeling that we know something--- is a mental sensation, rather than evidence of fact. An increasing body of evidence suggests that feelings such as certainty stem from primitive areas of the brain and are independent of active, conscious reflection and reasoning. In other words, the feeling of knowing happens to us; we cannot make it happen.

Bringing together cutting-edge neuroscience, experimental data, and fascinating anecdotes, Robert Burton explores the inconsistent and sometimes paradoxical relationship between our thoughts and what we actually know. Provocative and groundbreaking, On Being Certain challenges what we know (or think we know) about the mind, knowledge, and reason.
Praise For On Being Certain: Believing You Are Right Even When You're Not…
"On Being Certain challenges our understanding of the very nature of thought and provokes readers to ask what Burton calls "the most basic of questions": How do we know what we know?" —Scientific American Mind

"In his brilliant new book, Burton systematically and convincingly shows that certainty is a mental state, a feeling like anger or pride that can help guide us, but that doesn't dependably reflect objective truth… In the polarizing atmosphere of the 2008 election, On Being Certain ought to be required reading for every candidate -- and for every citizen." —ForbesLife

"What do we do when we recognize that a false certainty feels the same as certainty about the sky being blue? A lesser guide might get bogged down in nail-biting doubts about the limits of knowledge. Yet Burton not only makes clear the fascinating beauty of this tangled terrain, he also brings us out the other side with a clearer sense of how to navigate. It's a lovely piece of work; I'm all but certain you'll like it. " —David Dobbs, author of Reef Madness; Charles Darwin, Alexander Agassiz, and the Meaning of Coral

"Burton has a great talent for combining wit and insight in a way both palatable and profound." —Johanna Shapiro PhD, professor of Family Medicine at UC Irvine School of Medicine

"A new way of looking at knowledge that merits close reading by scientists and general readers alike." —Kirkus

"This could be one of the most important books of the year. With so much riding on 'certainty,' and so little known about how people actually reach a state of certainty about anything, some plain speaking from a knowledgeable neuroscientist is called for. If Gladwell's Blink was fascinating but largely anecdotal, Burton's book drills down to the real science behind snap judgments and other decision-making." —Howard Rheingold, futurist and author of Smart Mobs

"A fascinating read. Burton's engaging prose takes us into the deepest corners of our subconscious, making us question our most solid contentions. Nobody who reads this book will walk away from it and say 'I know this for sure' ever again." —Sylvia Pagán Westphal, science reporter, The Wall Street Journal

"Burton provides a compelling and though-provoking case that we should be more skeptical about our beliefs. Along the way, he also provides a novel perspective on many lines of research that should be of interest to readers who are looking for a broad introduction to the cognitive sciences." —Seed Magazine
St. Martin's Griffin, 9780312541521, 272pp.
Publication Date: March 17, 2009
About the Author
Robert Burton, M.D. graduated from Yale University and University of California at San Francisco medical school, where he also completed his neurology residency. At age 33, he was appointed chief of the Division of Neurology at Mt. Zion-UCSF Hospital, where he subsequently became Associate Chief of the Department of Neurosciences. His non-neurology writing career includes three critically acclaimed novels. He is the author of On Being Certain and A Skeptic's Guide to the Mind. He lives in Sausalito, California.