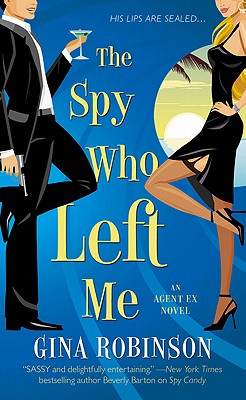 The Spy Who Left Me: An Agent Ex Novel (Mass Market Paperbound)
An Agent Ex Novel
St. Martin's Press, 9780312542399, 352pp.
Publication Date: November 1, 2011
* Individual store prices may vary.
or
Not Currently Available for Direct Purchase
Description
If there's one thing that can ruin a vacation, it's running into your ex. Just ask Treflee Miller. If she'd only known that her husband Ty would be here in Hawaii muscular, sun-bronzed, and infuriatingly gorgeous she would have brought the divorce papers for him to sign. But life is full of surprises when you're married to a world-class spy
Ty Miller can understand why his wife is tired of playing Mrs. James Bond. He's "never" home, he's "always" on a mission, and he's "usually" surrounded by exotic informants. He has to admit that the perfect spy makes a pretty lousy husband. But for the sake of Ty's security and Treflee's safety, they can't blow his cover. Not here. Not now. Not when his longing is so strong, her lips so tempting and his enemies so close
About the Author
Gina Robinson has always been a storyteller--just ask her parents. An avid book lover, she grew up reading romance, mysteries, and suspense novels but, somehow, ended up majoring in Electrical Engineering. After marrying her college sweetheart, she began to write--software--for several large defense contractors. Eventually Gina gave up the glamorous engineering life for the equally glamorous life of a stay-at-home mom, somehow finding time to write manuscripts about villains with guns, handsome strangers, and mail-order brides. Her published novels, Spy Candy, Spy Games, and The Spy Who Left Me, received rave reviews, establishing Gina Robinson as one of today's most exciting new authors of romantic suspense.
Praise For The Spy Who Left Me: An Agent Ex Novel…
"Punctuated with Bondworthy downhill car and bike chases and near-death surfing parties, Robinson's clever concoction of lust and longing is a refreshing tropical cocktail."--Publisher's Weekly "At time laugh-out-loud funny, Robinson's foray intot he world of James Bond has its poignant side, assuring that readers will be back for more."--Booklist
"This first Agent Ex novel is good, old-fashioned fun. Fill of laughter, intrigue and of course steamy spices, it's a great weekend escape. Robinson knows how to balance a book with lighthearted romps and serious romance." –RT Book Reviews
"The action is fast and furious and the plot twists turn on a dime.  Ms. Robinson seamlessly adds humor to her story that will keep the reader laughing as things keep going wrong."--Single Titles
"This quirky, amusing tale provides readers with a lush, sinful treat. Ty and Treflee are marvelous characters that quickly capture your heart. Their snappy, witty banter provides comic relief and absolute pleasure. The touches of suspense add to the dramatic storyline and merge with the currents of sexual tension to create an all-around, fantastic story sure to keep readers coming back for more."--Fallen Angel Reviews on The Spy Who Left Me
"Mystery, mayhem , sexy spies, and lots of laughter. Gina Robinson writes a damn good book!" -- Christie Craig, award-winning author of DON'T MESS WITH TEXAS
"THE SPY WHO LEFT ME...firmly establishes Gina Robinson as one of today's most exciting new authors of romantic suspense. It's bold, it's brassy, it's full of spy-goodness with a wicked sense of humor that'll leave you both shaken and stirred."--The Big Thrill
Advertisement