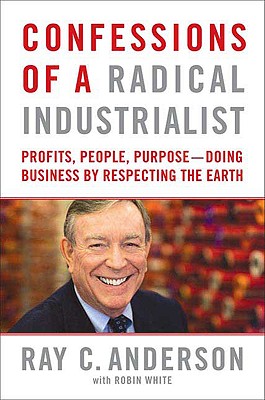 Confessions of a Radical Industrialist
Profits, People, Purpose--Doing Business by Respecting the Earth
Hardcover

* Individual store prices may vary.
Other Editions of This Title:
Paperback (2/1/2011)
Audio Cassette (9/1/2009)
MP3 CD (9/15/2009)
Compact Disc (9/15/2009)
Compact Disc (9/15/2009)
Description
In 1994, Interface founder and chairman Ray Anderson set an audacious goal for his commercial carpet company:  to take nothing from the earth that can't be replaced by the earth.  Now, in the most inspiring business book of our time, Anderson leads the way forward and challenges all of industry to share that goal. 
The Interface story is a compelling one:  In 1994, making carpets was a toxic, petroleum-based process, releasing immense amounts of air and water pollution and creating tons of waste.  Fifteen years after Anderson's "spear in the chest" revelation, Interface has:
-Cut greenhouse gas emissions by 82%
-Cut fossil fuel consumption by 60%
-Cut waste by 66%
-Cut water use by 75%
-Invented and patented new machines, materials, and manufacturing processes
-Increased sales by 66%, doubled earnings, and raised profit margins
With practical ideas and measurable outcomes that every business can use, Anderson shows that profit and sustainability are not mutually exclusive; businesses can improve their bottom lines and do right by the earth.
Praise For Confessions of a Radical Industrialist: Profits, People, Purpose--Doing Business by Respecting the Earth…
"Highly inspirational...Essential reading for anyone, whether lay, student, or practitioner, interested in business success today and in the environment."--Library Journal (starred review)
"Fascinating, instructive, and very timely."--Publishers Weekly
"Ray Anderson with his team has transformed Interface, Inc. in one of the best cases of sustainability. All employees led by him were committed with the 'climb of Sustainability Mountain', as he says, and believed the challenge was possible. Throughout the book, Anderson reinforces that the concept 'I have financial success or I have environmental success' is not true and I truly believe in it. Besides all the skepticism, he shows us that everybody, from the CEO to the homeowners, can be part of this movement of building a new society. This is the main role of this book: to prove this is possible!" - Fabio Barbosa, President, Grupo Santander Brasil

"Ray Anderson is a personal inspiration for me and for anyone trying to find their way in this new world of green business. He may be 'radical' but he's also a profit-seeking businessman. Confessions tells an amazing first-hand story of a personal and business transformation, a journey from being a cold-eyed capitalist to being…a cold-eyed capitalist, but just with a much larger perspective on what profitable really means. Ray has found a new path that's good for the planet and great for his business. He's showing the world how it's done yet again." - Andrew Winston, environmental strategist, author of Green Recovery and co-author of Green to Gold

"If we had a lot more businessmen like Ray Anderson, the planet would be neither bankrupt or overheated. He is a hero, and this book makes clear why!" - Bill McKibben, author of Deep Economy
"We are in desperate need of hope in this world, but if hope is to be credible and trustworthy, it has to walk a straight line to reality. No one does this better than Ray Anderson." - Paul Hawken, author of Ecology of Commerce, Natural Capitalism, and Blessed Unrest

"Anyone who thinks that business leadership on environmental sustainability is an oxymoron must read Confessions of a Radical Industrialist. In a humble, inspiring and informative manner, Ray Anderson describes his own journey to not just tweak the edges of his business towards green goals but to fundamentally re-think and re-design every aspect of its operations to respect environmental limits.
My only hesitation is that we cannot clone Ray Anderson…or perhaps we can? Let's hope that Confessions of a Radical Industrialist becomes required reading in all business, industrial design, and economics classes so that our next generation of business leaders continue in the direction that Anderson has begun." - Annie Leonard, author of The Story of Stuff
"Ray put everything he has built at his company on the line for what he believed and created a model of profitable sustainability and humanity. This tale of how and why is a great story of a good man. We sure do need more radical industrialists ." - Jonathan Lash, President of World Resources Institute
St. Martin's Press, 9780312543495, 320pp.
Publication Date: September 15, 2009
About the Author
RAY ANDERSON was named one of Time magazine's Heroes of the Environment and one of MSNBC.com's Top 15 Green Business Leaders in 2007. He and Interface have been featured in three documentary films, including "The Corporation" and "So Right, So Smart." He co-chaired the President's Council on Sustainable Development and the Presidential Climate Action Project. He and Interface have been featured in The New York Times, Fortune, Fast Company, and many other publications.
or
Not Currently Available for Direct Purchase