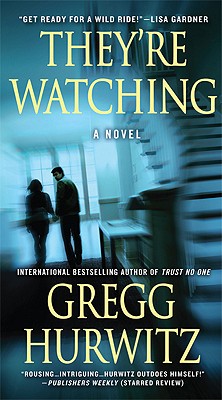 They're Watching (Mass Market Paperbound)
St. Martin's Press, 9780312544171, 498pp.
Publication Date: April 26, 2011
* Individual store prices may vary.
Description
All Patrick Davis ever wanted to do was make movies. But after he gets his big break and sells his first screenplay, his life collapses. His Hollywood dreams crumble almost immediately, sending him back to his dreary day job. Even his storybook marriage is on the rocks. And just when it seems things couldn't be worse, the DVDs start coming in
The ominous DVDs show that someone is watching Patrick and his wife that the two are being stalked and recorded by cameras hidden around and within their house. Then come the emails Finally, someone confronts Patrick with an offer he can't refuse: To take the mess his life has become and make it all right. Patrick figures it's the offer of a lifetime. But he's dead wrong.
Now, with every step, Patrick moves deeper and deeper into a web of intrigue that threatens everything he still has and values in this world. Before he knows it, he's in too deep and the only way out of is to outwit and outplay his unseen opponents at their own game
About the Author
Gregg Hurwitz is the author of a number of critically acclaimed thrillers, including "Trust No One," "The Crime Writer" and "Troubleshooting." International bestsellers, his novels have been finalists for several awards, including the Crime Writers of America Ian Fleming Steel Dagger and the ITW Best Novel of the Year awards. In addition to his novels, he has also written comic books and screenplays, developed television series for Warner Brothers and Lakeshore, published scholarly articles on Shakespeare, and is currently a consulting producer on ABC's "V." He has taught fiction at the University of Southern California and guest lectured for UCLA and Harvard. Hurwitz grew up in the Bay Area and earned his B.A. from Harvard and a master's from Trinity College at Oxford. He lives in Los Angeles, California.
Praise For They're Watching…
Praise for
THEY'RE WATCHING
"Riveting, emotionally rich, original, and beautifully written, this book kept me up too late reading, had me sneaking in pages the next day. They're Watching reminded me what it's like to be in the thrall of a great story: helpless until the end, loving every minute of it."—Lisa Unger, New York Times bestselling author of Die for You
 "Rousing…intriguing…one shocking surprise after another…Always a master of the gripping setup, Hurwitz outdoes himself in this ultra-suspenseful thriller."—Publishers Weekly (starred review)
"Buckle up and get ready for a wild ride! From the anxiety-inducing first page to the nerve-wracking last, They're Watching will keep you riveted as one man fights for his family, his career and his very life." —Lisa Gardner, New York Times bestselling author of Live to Tell
"A strong Hitchcock vibe… Hurwitz has the smarts and the writing chops to earn his suspense in a way that lesser writers simply can't….[he] has firmly established himself as one of the top writers in the suspense genre. He can be counted on to consistently deliver enough thrills to satisfy even the most demanding readers."—Chicago Sun-Times
"Invasion of privacy reaches sinister new levels in thriller maestro Hurwitz's latest….With cinematic pacing and strong echoes of countless other twisty suspenses, this one is a natural for the big screen."—People
"Turns with equal skill and mastery down the nightmarish road paved by Harlan Coben…Hurwitz's grasp of Hollywood noir is firm and his command of his story makes They're Watching riveting in all respects."—Providence Journal-Bulletin
"[A] labyrinthine thriller…full of twists and turns and unexpected revelations. Hurwitz frequently sets us up to expect one thing but delivers something entirely different. He keeps us constantly on our toes, and—this is especially good—he keeps us guessing right until the very last pages about exactly who has targeted Patrick and why. Highly recommended, especially for fans of Dean Koontz, Linwood Barclay, and Harlan Coben."—Booklist (starred review)
"You'll be gripped by this terrific read from page one."—The Sun
"They're Watching is a thrilling novel, dripping with mystery, suspense, violence, and even a little romance.  It contains all the ingredients for a bestseller."—New York Journal of Books