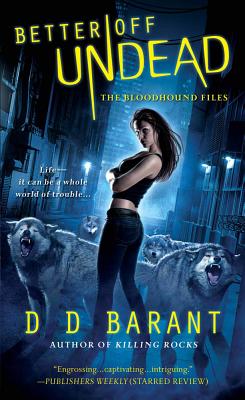 Better Off Undead (Mass Market Paperbound)
St. Martin's Press, 9780312545055, 324pp.
Publication Date: October 4, 2011
* Individual store prices may vary.
Description
Dark magic, unknown enemies, monsters of every stripe FBI profiler Jace Valchek has seen it all. In this bizarre parallel universe, shape-shifting werewolves and blood-thirsty vampires don't even warrant a raised eyebrow. That is, until Jace has to face what life might look like as one of them
It starts off as just another run-of-the-mill assignment: to track down the rogue don of a mafia werewolf family before he upsets the delicate balance of the underworld. But Jace wasn't counting on being bitten and soon she's fighting the growing wolf inside her with a startling antidote vampirism. Stopping a bloody gangland war won't be easy when Jace is feeling some new, and very inhuman, desires
In Better Off Undead, Book 4 in The Bloodhound Files, DD Barant takes Jace farther than ever before ... and the result is "A stellar addition to an already outstanding series" (RT Book Reviews).
About the Author
DD Barant lives in Vancouver, BC, and loves monsters, chocolate, animals, reading, comics and lying naked on the beach, while hating bullies, narrow-minded people, Sea Urchin Sushi, and gluten. Awful, terrible, gluten.
Praise For Better Off Undead…
"Choice and control are major themes of the newest Bloodhound Files outing. Despite humans being an extreme minority, FBI profiler Jace Valchek's pugnacious personality won't let her back down, even in the face of long odds. Barant continues to explore themes of persecution and discrimination with outsider Jace struggling to find her place. For Jace, events come to a life-changing crossroads, giving readers a true emotional punch. A steller addition to an already outstanding series." --RT Book Reviews (4 1/2 stars! TOP PICK!)
"Snappy writing, a page-turning story and fresh world-building make Dying Bites a satisfying meal of a book."—Kelley Armstrong, New York Times bestselling author of Men of the Otherworld and The Awakening 
"Dying Bites is wacky, unpredictable, fresh and amazing.  I would kill to write as well as D.D. Barant. Seriously."—Nancy Holder, author of Pretty Little Devils   
"This engrossing debut adds another captivating protagonist to the urban fantasy ranks…Barant's well-developed world offers intriguing enhancements to mythology and history. Jace is remarkable, strong-willed and smart, and she sets an unstoppable pace. Look for the Bloodhound Files to go far."—Publishers Weekly (starred review)  
"A heroine with plenty of guts, moxie and a sense of the absurd.  [A] fresh and original take on urban fantasy…Huge kudos to Barant for spicing things up with a story that expertly integrates detective work, kick-butt action and a wacky sense of humor.  Make sure you get in early on the outstanding new Bloodhound Files series."—Romantic Times 
"D D Barant builds a strong world and fills it with fascinating characters that will delight and entertain. Dying Bites is a well-written urban fantasy with a gripping plot and a heroine who is quite believable with her very human flaws.  I'm looking forward to seeing more in this captivating world."—Darque Reviews (starred read) 
"Five stars. An exciting new series. It has humor, mystery, and adventure. A great book!"—Affair de Coeur 
"Barant does an excellent job introducing a whole new world where vampires make up the majority of the population…quick and engrossing…a great new series."—The Romance Reader 
or
Not Currently Available for Direct Purchase