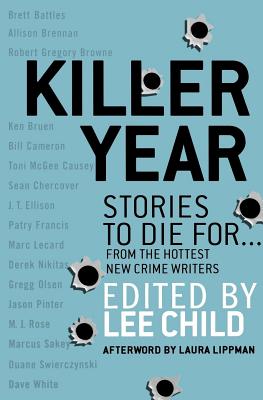 Killer Year (Paperback)
Stories to Die For... from the Hottest New Crime Writers
Minotaur Books, 9780312545246, 281pp.
Publication Date: December 23, 2008
Description
Killer Year is a group of 13 debut crime/mystery/suspense authors whose books will be published in 2007. The graduating class includes such rising stars as Robert Gregory Browne, Toni McGee Causey, Marcus Sakey, Derek Nikitas, Marc Lecard, JT Ellison, Brett Battles, Jason Pinter, Bill Cameron, Sean Chercover, Patry Francis, Gregg Olsen, and David White. Each of the short stories displaying their talents are introduced by their Killer Year mentors, some of which include bestselling authors Lee Child, Tess Gerritsen and Jeffrey Deaver, with additional stories by Ken Bruen, Allison Brennan and Duane Swierczynski. Bestselling authors Laura Lippman and MJ Rose contribute insightful essays. Inside you'll read about a small time crook in over his head, a story told backwards with a heroine not to be messed with, a tale of boys and the trouble they will get into over a girl, and many more stories of the highest caliber in murder, mayhem, and sheer entertainment. This amazing anthology, edited by the grandmaster Lee Child, is sure to garner lots of attention and keep readers coming back for more.
About the Author
LEE CHILD, the editor of Killer Year, is the number-one internationally bestselling author of the Jack Reacher thrillers, including the New York Times bestsellers The Enemy, One Shot, The Hard Way, and the number-one bestselling novels Bad Luck and Trouble and Nothing to Lose. His debut, Killing Floor, won both the Anthony and the Barry Awards for Best First Mystery, and The Enemy won both the Barry and the Nero Awards for Best Novel. Child, a native of England and a former television director, lives in New York City.
Praise For Killer Year: Stories to Die For... from the Hottest New Crime Writers…
Sixteen shades of noir, all interesting, some compelling.Three of Child's contributors—Ken Bruen, Allison Brennan and Duane Swierczynski—are seasoned pros, but the collection's gems come from the 13 members of the younger set. Derek Nikitas's "Runaway," for instance, is a superbly ambiguous chiller about an adolescent girl who may or may not be a real runaway, or for that matter real. In Toni McGee Causey's artfully composed "A Failure to Communicate" introduces the indomitable and irresistible Bobbie Faye Sumrall, a steel magnolia whose steel will cause three lowlifes to rue the day they took her hostage. "Perfect Gentleman" by Brett Battles and "Bottom Deal" by Robert Gregory Browne are both lean and taut, expertly crafted in the good old hard-boiled tradition. In Marc Lecard's sly "Teardown," a hapless loser arrives in the wrong place at what turns out to be exactly the right time. Gregg Olson's autobiographical "Crime of My Life" features a surprise ending that actually surprises. The quality is less consistent among the other entries, but, remarkably for a collection this ample, there's no sign of a clinker. An anthology so worthwhile that it comes within an eyelash of deserving the hyperbole Child (Bad Luck and Trouble, 2007, etc.) heaps on it in his introduction. - Kirkus Reviews
Who doesn't like a good treasure hunt? Who doesn't like discovering new talent on the rise? Both will be found within the covers of KILLER YEAR, an anthology of spanking new talent doing what they do best: getting your blood pumping and holding you breathless on the razor's edge of suspense. Each story is a brilliant, perfectly cut gem--just be careful of those sharp edges. They cut deep to the bone." --James Rollins, New York Times bestselling author of MAP OF BONES and THE JUDAS STRAIN "I'm for anything that increases writers' odds of enjoying long and successful careers. Let's hope KILLER YEAR does just that, for these writers and generations of writers to come." --Laura Lippman
"The disturbingly good new talent showcased in this volume bodes well for the future of the genre." — Publishers Weekly
"The mentors' introductions to these stories, plus brief biographies at the end, should entice readers to longer works by these promising new authors. Even amid a recent rash of anthologies in the genre, this one is well worth a look." — Library Journal
"Gems come from the 13 [Killer Year] members…. Remarkably for a collection this ample, there's no sign of a clinker." — Kirkus Reviews
Advertisement