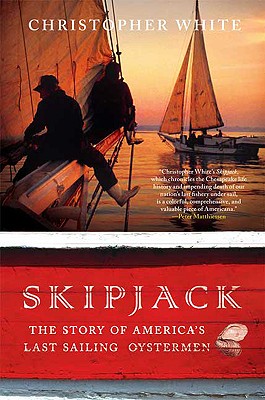 Skipjack (Hardcover)
The Story of America's Last Sailing Oystermen
St. Martin's Press, 9780312545321, 384pp.
Publication Date: November 10, 2009
* Individual store prices may vary.
Description
In "Skipjack, "Christopher White spends a pivotal year with three memorable captains as they battle man and nature to control the fate of their island villages and oyster fleet. Through these lively characters, White paints a vivid picture of life on a skip - jack, a wooden oystering sailboat as they dredge for oysters--a favorite staple of iconic American seafood cuisine for over a hundred years. But this last vestige of American sailing culture is rapidly dying. State officials have mismanaged the waters, putting sport above business, and modernization above tradition. These captains must set aside their rivalry to fight for their very livelihood. With so many obstacles, it is not certain the fleet will survive the season. Hinging on its success, the viability of the nation's premiere estuary and the survival of a classic American town hang dangerously in the balance.
About the Author
CHRISTOPHER WHITE has written several books and has been published in "National Geographic, Exploration, Chesapeake Journal," and multiple other publications. He lives in Santa Fe, New Mexico.
Praise For Skipjack: The Story of America's Last Sailing Oystermen…
"[An] evocative portrait of the nation's most beautiful and poignant vocational anachronism. It's an action-packed tale, complete with waterborne grudge matches, on-deck shootouts, fierce winter storms and suspenseful escapes. To his great credit, White resists any temptation to romanticize his skipjackers as quaint rustics simply overtaken by a modern world. He knows better. He has lived with them, worked aboard with them and listened as they admitted that they were often their own worst enemies. But he's just as clear-eyed when observing their virtues: loyalty and love of family, a relentless work ethic, stubborn independence and a cultural taproot to traditions of surpassing humanity. And he serves them all up for us on the half-shell."--The Washington Post "Christopher White's Skipjack is not only a powerful elegy for a great American fishery, it's an act of defiance against all that has conspired to empty the dredges of these beautiful boats. White's prose is like the oystermen he portrays: tough, lyrical, and soaked to the bone in the waters of Chesapeake Bay. I've still got a lump in my throat from its last page."-- Richard Adams Carey, Against the Tide: The Fate of New England Fishermen and the Philosopher Fish
"Christopher White's Skipjack, which chronicles the Chesapeake life history and impending death of our nation's last fishery under sail, is a colorful, comprehensive, and valuable piece of Americana" – Peter Matthiessen
"The world has almost run out of fish, as modern technology strips our oceans bare. Christopher White's Skipjack is a compelling story about how the wisdom of the past can help us protect the future of our fisheries. If you savor seafood, White's chronicle of the gritty life aboard America's last sailboat fishing fleet is a tale you need to hear." —Trevor Corson, The Secret Life of Lobsters and The Zen of Fish: The Story of Sushi
"Men who take their livings from the sea have their own language to reinforce kinship and keep strangers at bay. Only rarely is an outsider accepted into their inner circle, and then only when he knows how to listen and is willing to work. Even more rarely does such an adopted son capture the cadenced ebb and flow of watermen's speech. Herman Melville did it for New England whalers: Christopher White has now done it for the oystermen of Maryland's Eastern Shore. Just as Melville documented something greater than a whale hunt, White's account helps us understand how much all our lives will be diminished when the last oyster drudger sailed in from the Chesapeake… Skipjack is a masterpiece." – George Reiger, author of Wanderer on My Native Shore
"Well written, and carefully researched … . Chris White's brilliant use of the waterman's vernacular and his intimate knowledge of multiple generations of watermen combine to make this an excellent treatise on a culture that is clearly disappearing." —Gilbert M. Grosvenor, former editor and Chairman of National Geographic Society
or
Not Currently Available for Direct Purchase